Home Video Bits: YouTube Adds Celebrity Channels, CW Signs With Hulu; Redbox Raises Prices, Will Unveil Streaming By Year-End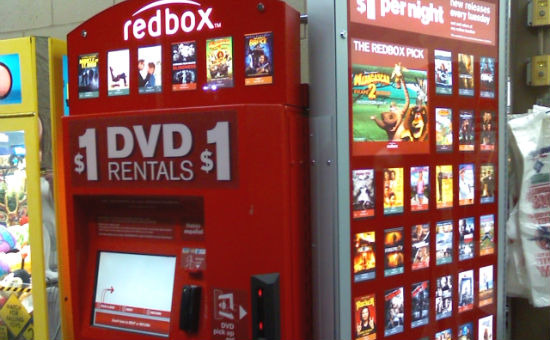 Things are heating up in the streaming video space. All the major companies with a stake in digital content streaming are trying to find new revenue streams, and new ways to compete for audiences as Netflix voraciously increases the amount of content it offers, especially with respect to television series.
Three of the major streaming players — Netflix, Hulu and YouTube — have made new deals to provide content to users, and a fourth company, Redbox, is raising prices after testing an increase in limited markets, but is also planning to launch a streaming service by the end of the year.
Let's start with the item that will probably be of the least interest: Hulu has made a deal with the CW to run episodes of current CW series on Hulu Plus the day after they air. And for those who don't subscribe to Hulu's pay service, shows like Gossip Girl and The Vampire Diaries are set to hit the ad-supported version of Hulu eight days after air. Later this year, all the primetime series on the CW will hit both versions of Hulu. As has been the case, episodes of CW shows will hit the company's website, cwtv.com, three days after air.
What all of this boils down to, as Deadline points out, is that a lot of the CW's programming isn't stuff with a broad, long shelf life, and the channel has had a problem with fallow periods between seasons when it is running low-rating repeats. The revenue stream from this Hulu deal, and the recent deal that puts CW shows on Netflix, will help the channel develop new content and ideally have more midseason and summer shows to offer in the future. So even though a lot of the CW's shows might not be what you want to see, the network is at least approaching financing and marketing those shows directly to audiences in an of-the-moment manner. [Variety]
Speaking of Netflix, ABC and Disney announced that they have extended previous licensing with Netflix, which allows the continued streaming of library episodes of ABC, Disney Channel and ABC Family shows. There will be new content added, too. The new content includes Switched at Birth, prior season episodes of Kick Buttowski and all episodes of Alias. [PRNewswire]
Back in August, Netflix rival Redbox tested increased nightly rental rates in Austin, TX and Portland, OR, and now that price increase is going to be implemented in all markets. Movies will now cost $1.20 per night, instead of $1 per night. Blu-ray discs will still be $1.50 per night and video games $2. The upside is that Redbox might soon compete with Netflix in the streaming marked. CEO Paul Davis calls a streaming service "a top priority for the company," and says a plan will be revealed by the end of 2011.
There's still the question of how studios will deal with Rebox going forward, as companies have had issue with kiosks providing DVDs day and date with their retail release. It has been intimated in the past that Redbox will buy and then rent retail DVDs rather than going through studios and Davis said last week "the great thing about the United States is that the first-sale doctrine gives you opportunity for workarounds, and we evaluate that ... to protect the windows we enjoy today," so if studios don't want to do day and date retail and rental releases, Redbox will continue to work around it. [Deadline]
Finally, let's look to YouTube, which is taking an unusual path to expanding its audience. YouTube is launching more than one hundred new channels with exclusive content commissioned from celebrities and other media companies. It's YouTube's push not only against Netflix's online streaming service, but against the very established cable TV service.
These channels will begin to go online in November, and will continue to debut into 2012. We'll see YouTube offer exclusive content from Reuters, The Wall Street Journal, Slate, The Onion, Deepak Chopra, Jay-Z and many more. YouTube reportedly paid out over $100m to get this deal going. Here's a full list of all the people and companies that have partnered with YouTube to create their own 'channels,' via Business Insider:
Electus Channel – Pop Culture (name TBD)
PMC PMC Entertainment News
WWE WWE
Young Hollywood Young Hollywood Network
DanceOn DanceOn (Madonna)
Fine Brothers Films MyMusic
Everyday Health, Inc. Everyday Health TV
TakePart™ TakePart™ TV
Digital Broadcasting Group (DBG) Spaces
Uncommon Content Partners The Conversation Channel
Demand Media eHow Home
SB Nation SB Nation
Magical Elves and InStyle magazine Little Black Dress
Hearst Magazines Channel – Fashion & Beauty Channel (name TBD)
Emil Rensing International Channel – Auto (name TBD)
My Damn Channel My Damn Channel: Live
Uncommon Content Partners Taste & Access
Red Bull Media House North America Red Bull
Machinima Machinima
Katalyst Thrash Lab (Ashton Kutcher)
Steve Spangler Science The Spangler Effect
New Nation Networks New Nation Networks
Smart Girls at the Party Smart Girls at the Party (Amy Poehler)
Bedrocket Media Ventures and Full Picture Productions Look TV
BermanBraun theLOGE
The Young Turks Town Square
BermanBraun & Rodale Inc. Vigor
Electus NuevOn – Latin Channel (Sofia Vergara)
Clevver Media ClevverStyle
ModernMom.com ModernMom Channel
Brady Haran DeepSkyVideos
IconicTV 123UnoDosTres
The Wall Street Journal The Wall Street Journal
Pharrell Williams i am OTHER
SoulPancake Productions SoulPancake (Rainn Wilson)
Chopra Media/Generate The Chopra Well (Deepak Chopra)
Clevver Media ClevverNews
The Bowery Presents The Bowery Presents
Clevver Media ClevverTeVe
Seedwell American Hipster
Hearst Magazines Car and Driver Television
Alchemy Networks Alchemy Networks
CafeMom CafeMom Studios
Bedrocket Media Ventures Channel – Comedy (name TBD)
Demand Media LIVESTRONG
Bedrocket Media Ventures Channel – Action Sports (name TBD)
FremantleMedia Channel – Pets & Animal (name TBD)
Big Frame BAM
IconicTV myISH
Electus Channel – Food (name TBD)
Soccer United Marketing & Bedrocket KickTV
Lionsgate Lionsgate Fitness Channel
East of Center Productions LLC YOMYOMF
EQAL u look haute!
Philip Defranco Sourcefed
Meredith Corporation and Meredith Video Studios Digs
Vlogbrothers CrashCourse
Walter Latham Digital Walter Latham's "Kings of Comedy"
Tony Hawk's production company, 900 Films, Inc. RIDE Channel
JON M. CHU Channel – Dance (name TBD)
Vuguru & POW! Entertainment Stan Lee's World of Heroes
FAWN by Michelle Phan Fawn
DECA KinCommunity
Source Interlink Media Motor Trend
The Nerdist Channel The Nerdist Channel
Comedy Shaq Network The Comedy Shaq Network (Shaquille O'Neal)
Demand Media eHow Pets & Animals
Brady Haran numberphile
Cooking Up a Story Food Farmer Earth
Bleacher Report Bleacher Report
TED Conferences TEDEducation
Intelligent Television Intelligent Channel
Pitchfork Pitchfork TV
Vlogbrothers SciShow
EYEBOOGIE POP SPOT
Roadside Entertainment/BAC The NOC
Alli Sports Alli Sports
The Onion Onion Broadcasting Company
VICE VICE
Smosh/Alloy Digital Smosh Animation (name TBD)
VICE Noisey
Knights of Good Productions Geek & Sundry
Mondo Media New Animators
BermanBraun & Rodale Inc. Taste
Varsity Pictures Awesomeness
Black Box TV Black Box TV (Anthony Zuicker, founder of CSI)
IGN Entertainment / Shine Group START
@radical.media Channel – Education (name TBD)
Frederator Networks Channel Frederator's Cartoon Hangover
monotransistor werevertumorro
Thomson Reuters Reuters.com
Slate Slate News Channel
Maker Studios The Maker Music Network
Maker Studios The Moms' View
Maker Studios Tutele
Noisey VICE
Iconic Life and Times (Jay-Z)