Arnold Schwarzenegger Set To Star In 'Black Sands'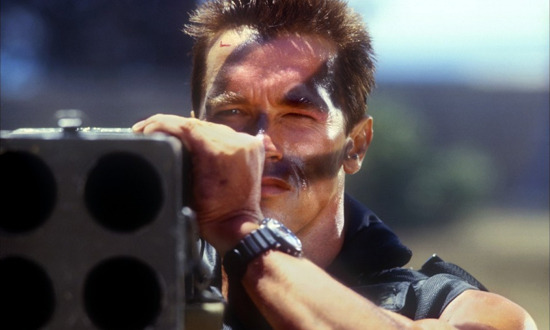 The two guys who directed the real Navy SEALs movie Act of Valor, Scott Waugh and Mike McCoy, have been validated by Relativity's decision to buy and release that picture. The duo will next get to make Black Sands, starring Arnold Schwarzenegger. The movie sounds like a dark action thriller, and features a lone man (Schwarzenegger) facing down a weapons manufacturer and his private army.
Deadline breaks the news, and says the film's tone is like High Plains Drifter meets Man on Fire. High Plains Drifter, huh? You think Schwarzenegger will rape someone in this movie, like Eastwood's Stranger did in Drifter? I doubt it — it probably isn't that dark. To expand just slightly on the basics listed above, the plot features "a loner who wages war against a ruthless weapons manufacturer and his private army in the Southwest." That sounds like an alternate version of half the big-name action movies from the mid-'80s.
Here we thought for a minute that we might see Schwarzenegger going forward into slightly less action-oriented roles. But he recently finished his part in The Expendables 2 and is shooting The Last Stand right now, under the direction of Kim Ji-woon. He may leap into this one come spring 2012.
Oh, and Black Sands is written by Skip Woods, the guy who wrote the upcoming A Good Day to Die Hard, as well as The A-Team, Hitman and Swordfish. So... yeah. Manage your hopes and expectations somewhat, according to how you responded to the three movies on that list that have already seen release.