'Headshot' Trailer: An Upside-Down Thai Thriller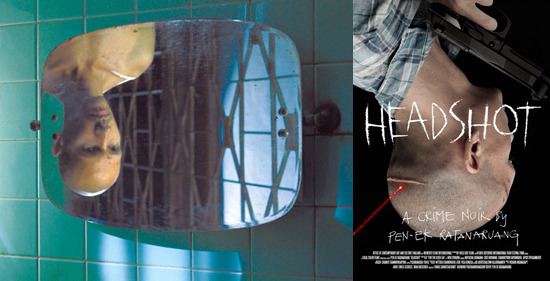 We may receive a commission on purchases made from links.
Head wounds are unpredictable. One person might endure grievous trauma to the noggin and display no ill effects, while a seemingly minor knock on the dome can drop someone else into a coma for years. So I don't find it difficult at all to  accept the idea that a man who survives being shot in the head might find that he sees everything upside-down. That's part of the basic conceit of Headshot, a cops and gangsters thriller from Thai director Pen-Ek Ratanaruang in which a cop experiences exactly that sort of shooting and aftermath, and then tries to deal with the aftermath.
I've been following the slow reveal of images and video from Headshot ever since the first materials premiered on Twitch. A couple of trailers showed up there over the past months, and we never ran them. The English-subtitled one is cropping up once more this week, likely thanks to the upcoming American Film Market, so we'll present it now. Check that out below.
First up is the subtitled trailer. It shows off perhaps more of the story than we'd like, and is mildly NSFW to boot, thanks to a couple quick flashes of sex and nudity. Following that is the Thai trailer, which you may want to watch just to get a sense of what the film looks like without the info-revealing subtitles. That one is mildly NSFW, too.
I'm always interested in the work of Thai director Pen-Ek Ratanaruang, as his 2003 film Last Life in the Universe is a movie that I revist an an annual basis. The follow-up to that movie, Invisible Waves, was another thriller that bears some tonal similarity to what we see here, and is worth a look for the cinematography of Christopher Doyle. And while I didn't love his 2007 festival entry Ploy, there are elements to that movie that make it worth a look, too.
Here's a long synopsis of Headshot, followed by a little behind the scenes video featurette:
Present-day Thailand is rife with corruption. Tul, a straight-laced cop, is blackmailed by a powerful politician and framed from a crime he did not commit. Disillusioned and vengeful, he is soon recruited to become a hitman for a shadowy group aimed at eliminating those who are above the law. But one day, Tul is shot in the head during an assignment. He wakes up after a three-month coma to find that he sees everything upside down, literally. Unaware of whether the condition is medical or a result of karmic retribution, Tul begins to have second thoughts about his profession. But when he tries to quit, roles are reversed and the hunter becomes the hunted. Then he meets a girl that turns his world even more upside down. Can Tul find redemption from the violence that continues to haunt him? From the director of 6ixtynin9 and Last Life in the Universe comes a crime noir about a man trying to forget his past but his past – and karma – won't forget him. Adapted from the novel "Fon Tok Kuen Fa" (Rain Falling up the Sky) by award-winning writer Win Lyovarin.