Sean Penn To Direct Robert De Niro And Kristin Wiig In 'The Comedian'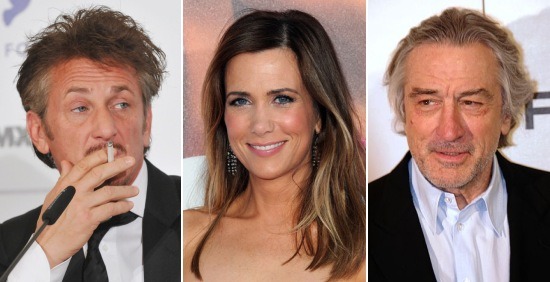 I'm kind of a sucker for movies about fading stars (Sunset Boulevard is one of my all-time favorites), so I've been curious to see Art Linson's script The Comedian make it to the screen. I first heard about it this spring, when Martin Scorsese was rumored to be directing with Robert De Niro in the lead, but that report's turned out to be only half true. De Niro is indeed set to star in the film, but it's Sean Penn who'll be taking over behind the camera.
Additionally, the project has just seen the addition of Saturday Night Live veteran Kristen Wiig, in a rare (I'm assuming) dramatic role. More details after the jump.
Penn entered talks to helm this summer, and has now closed the deal. The multi-hyphenate has directed a handful of films over the past couple of decades, the most recent one being 2007's poignant Into the Wild (which he also wrote). He's not Scorsese, but he's proved to be quite a competent director — The Comedian is in good hands.
The indie drama marks a reunion for De Niro, Penn, and Linson, who previously collaborated on 2008's What Just Happened. (Penn and De Niro starred; Linson wrote.) Additionally, De Niro and Penn worked together on 1989's We're No Angels, and Linson has produced De Niro's Heat and The Untouchables.
The newcomer in this group is undoubtedly Wiig, who's appeared mostly in comedies up to this point. However, I doubt she'll have much trouble transitioning into more serious roles. She's demonstrated her great range in the past — from the over-the-top antics of her SNL characters to her much more subdued performance in Whip It! Wiig recently wrapped the dark comedy Imogene, by American Splendor directors Shari Springer Berman and Robert Pulcini.
[Sources: Variety, The Hollywood Reporter]