First Look: Will Sasso, Sean Hayes & Chris Diamantopoulos In 'The Three Stooges'

Only hours after the news that Bobby and Peter Farrelly are moving forward with a sequel to Dumb and Dumber, we've got the first real look at the Farrellys' new Stooges. Here are Will Sasso, Chris Diamantopoulos, and Sean Hayes as Curly, Moe and Larry in The Three Stooges. I invite you to compare and contrast Chris Diamantopoulos as Moe in this pic, and old shots of Jim Carrey as Lloyd Christmas from Dumb and Dumber. There's a certain family resemblance, I think. Check out a full image of the trio below.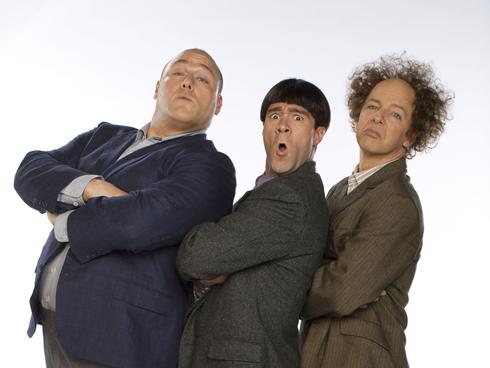 The Three Stooges, which hits theaters on April 4, 2012, is crafted to look like three Stooges shorts laid end to end. Here's the plot:
While trying to save their childhood orphanage, Moe, Larry, and Curly inadvertently stumble into a murder plot and wind up starring in a reality TV show.
Jane Lynch, Sofia Vergara, Jennifer Hudson, and Larry David all factor in, with Larry David playing a nun. That's reason enough to get me into the theater. But there are also some Jersey Shore cast cameos, which have dated the movie before it even gets a chance to be released.  [USA Today]