Writers Hired For 'Dumb & Dumber 2,' Farrelly Brothers Still Hope To Reunite Jim Carrey And Jeff Daniels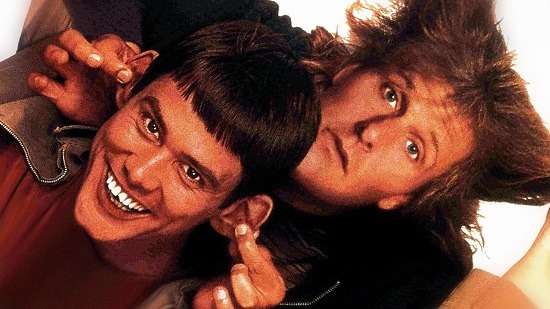 Now that Peter and Bobby Farrelly are almost done with their long dreamed-of film reincarnation of The Three Stooges, they're turning their thoughts to the future. The brothers have another TV show in the works, but for their next feature film it sounds like they might revive their 1994 hit Dumb and Dumber. Screenwriters have been hired to write a sequel that will hopefully reunite Jim Carrey and Jeff Daniels in their original roles.
Deadline says Sean Anders and John Morris (Sex Drive writers, directors of the upcoming I Hate You Dad) have been roped in to write a script, and the Farrellys want to make Dumb and Dumber 2 (or whatever it will be called) their next film.
This is follow-through on talk from last year. While promoting Hall Pass, Bobby Farrelly said,
If we could get those two guys back together, Jim Carrey and Jeff Daniels that might be a worthwhile sequel – and that ball is in motion. We're starting to think about what those two dimwits would be doing twenty-years later in life, and hopefully we'll be able to come up with something worthy of a sequel.
And Jim Carrey referenced the possibility of a new film as well, when he was out promoting Mr. Popper's Penguins,
We're talking about maybe returning to some old characters that everyone has been asking about ...There's Bruce Almighty and we're talking about maybe another Dumb and Dumber.
Deadline says original producers Charles B. Wessler, Brad Krevoy and Steve Stabler will all work on this proper sequel, which will likely continue to bury the memory of the ill-considered Dumb and Dumberer: When Harry Met Lloyd, released in 2003. Will this movie be any better than that one? The Farrelly's films haven't shown much spark of late, but maybe they were re-energized by making Stooges.