Sequel Bits: Billy Bob Thornton On 'Bad Santa 2;' Plot Details For 'Zoolander 2;' Plus Talk Of 'Transformers 4' And 'Prometheus'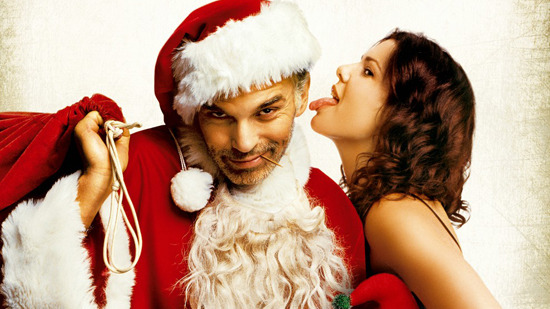 We've got a lot of small sequel talk this week, for films from Bad Santa 2 to Zoolander 2, Transformers 4 and Prometheus, aka the Alien prequel. None of it is massively substantial, but for the fans of each film there are nuggets of info that are worth a look. Bad Santa fans should definitely hit the jump for some of the most refreshingly honest sequel talk you're likely to hear.
We'll kick off with Bad Santa 2, for which two screenplays are being written, by Johnny Rosenthal and John Phillips. Neither script is in yet, but of the general idea of the sequel Billy Bob Thornton told The Playlist,
I'm not worried about doing another 'Bad Santa' in terms of my career or anything like that. My only worry is, you know, that movie is pretty darn good. I think if you want to do a sequel, you want to at least be on par with that one, if not better. That's the worry... You know, we're probably never going to make one that's exactly what that first one was.
That's the sort of realism that is pretty refreshing to read. But he's got the same hopes for the sequel we do: "hopefully we can get close to the first one... But hopefully the fans with at least get a kick out of seeing the character again, and that's my hope for it – that people will get a charge out of seeing that character doing his thing again."
The possibility of a Zoolander sequel has grown recently, as Ben Stiller and Justin Theroux (with whom Stiller wrote Tropic Thunder) have written a Zoolander 2 script. As Stiller promotes Tower Heist, he's talking about Zoolander in additional to appearing on TV as the character. To THR he confirms the plot. The site says,
The story will pick up 10 years after the first film left off and, Derek's "School For Kids Who Can't Read Good" has been destroyed, leaving him in charge of its pupil.
Stiller also tells THR that a third Night at the Museum is in the works, with an idea for a story in place, but that there are no plans for a fourth Fockers movie. We dodged a bullet there.
The possibility of fourth and fifth Transformers movies has been discussed recently, with the CEO of Hasbro saying that the company is in talks with Steven Spielberg, Michael Bay and Paramount to make a fourth film, and Bay saying that he's not part of the talks. Transformers: Dark of the Moon co-star Rosie Huntington-Whiteley has chimed in on the possibility of more films, and she seems to think that both Bay and Shia LaBeouf, who has also said he's done with the series, will be back.
Keeping in mind that actors are often the last to know about what is really going on with a film's development, the gossip blog on the LA Times has an interview with Rosie Huntington-Whiteley, saying,
"We'll see about that," Huntington-Whiteley told us Monday at the Hollywood Awards, seemingly doubtful about LaBeouf's statement. Asked if the actor could be persuaded to return for another "Transformers," she replied: "I think so. He'll kill me for saying that."
Here's the video:
Finally, Rafe Spall, who you can see this week in Anonymous, talks about the relationship between Ridley Scott's Prometheus and his landmark 1979 movie Alien. Scott seems to want to distance Prometheus from Alien just a bit, despite the fact that they are clearly connected and, title change notwithstanding, Prometheus is still an Alien prequel. Spall says,
[Ridley Scott] directed the first Alien, and this is... I've been sent an e-mail about what I'm allowed to say and what I'm not allowed to say and I haven't read the e-mail. (laughs). It's out next June, and it's part of the Alien franchise. I'm in it, and Charlize Theron, Noomi Rapace and Michael Fassbender. I think fans of the franchise will love it. Alien is one of the best films ever made, and it's a real buzz to be in a space suit on an 'Alien' set with Ridley Scott coming and speaking to you. It's incredible. That's why I wanted to be an actor, to be in a space suit on an 'Alien' set.
Here's that video, via Alien Prequel News: