Hayley Atwell, Diane Kruger, Kate Beckinsale To Read For Joseph Kosinski's 'Horizons'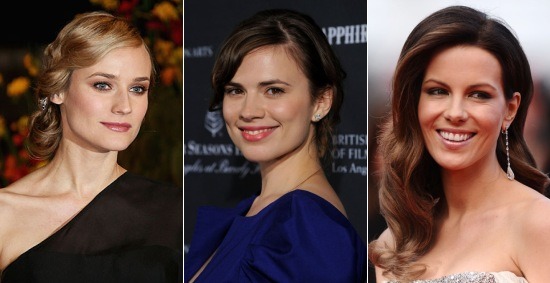 Apparently Joseph Kosinski's Horizons (a.k.a. Oblivion) is the plum gig for actresses in Hollywood right now. Last month, Jessica Chastain beat out a list of up-and-coming actresses — including Olga Kurylenko, Brit Marling, Noomi Rapace, and Olivia Wilde — for one of two lead female roles; this weekend, Hayley Atwell, Diane Kruger, and Kate Beckinsale will vie for the other. Whoever lands the sci-fi flick will be starring opposite Tom Cruise, who leads the cast as soldier and drone repairman Jak. Most details after the jump.
Whatever it's called, the sci-fi epic unfolds in a post-apocalyptic future in which most people live in the clouds, as the surface of the Earth has been rendered uninhabitable. Cruise's character is one of the few who remain on the ground, maintaining the drones that help keep the planet safe from vicious alien Scavengers. One day, he comes across a mysterious woman who's crash-landed in a pod, and her appearance calls his world view into question. Atwell, Kruger, and Beckinsale will be reading for the role of the woman. (Chastain plays Cruise's wife.)
Atwell was previously up for the female lead in Cruise's One Shot, but lost that role earlier this year to Rosamund Pike. Though Atwell's been acting steadily for the past several years, it wasn't until this year's Captain America: The First Avenger that she became a regular fixture on these casting lists. She recently wrapped the noir thriller I, Anna, starring Gabriel Byrne and Charlotte Rampling.
Kruger starred in this year's Unknown with Liam Neeson, and will next be seen in the French drama Special Forces, which opens in Europe next month. At present, the Inglourious Basterds star is working on two other French films — the ability to win foreign-language projects being one of the benefits of being trilingual (French, German, English).
Beckinsale's been laying low the past couple years, but will be reappearing on the big screen in full force in 2012. She has a handful of films due out next year, including Contraband with Mark Wahlberg, the horror sequel Underworld Awakening, and husband Len Wiseman's Total Recall remake.
Oblivion comes from an idea originally hatched by Kosinski and Arvid Nelson, which was then turned into a graphic novel. William Monahan (The Departed) adapted the story into a screenplay, which was then rewritten by Karl Gajdusek. The finished film will hit theaters in 2013.