LOL: '2001: A Space Odyssey'-Inspired IRIS 9000 Voice Control Module For iPhone & Siri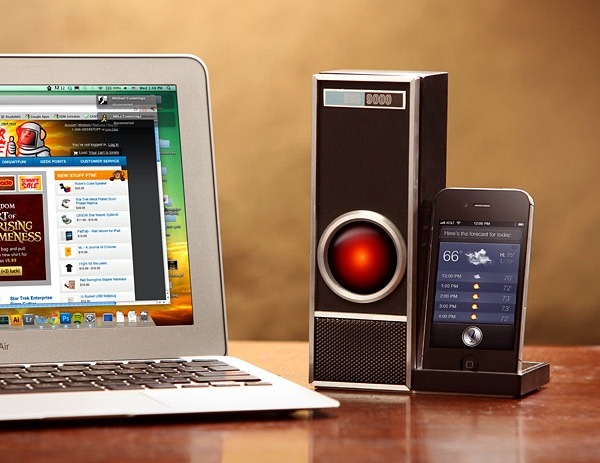 One of the killer features in Apple's new iPhone 4S is a virtual personal assistant program named Siri. The new software, which is built into the core operating system, allows users to ask questions or create tasks using natural speech. Before the phone was released, someone created a video we previously posted which replaced the iPhone 4S's Siri with Hal 9000 from Stanley Kubrick's classic film 2001: A Space Odyssey. We later discovered that the Apple engineers hid a bunch of funny easter eggs for Siri's possibly responses, including yes, references and responses to 2001 dialogue cues.
ThinkGeek had a spark of genius and saw a potential market for a iPhone/2001 mash-up device — the IRIS 9000 voice control module for iPhone & Siri. Details after the jump.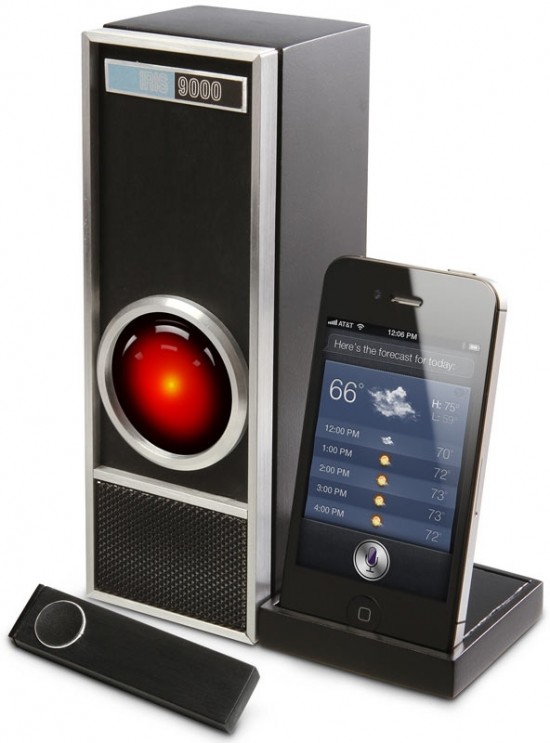 Here is the official product description from ThinkGeek:
Control Siri from across the room... perfect for deep space missions. Having an artificially intelligent computer at our beck and call has long been the fantasy of every green blooded sci-fi fan amongst us. Finally Siri on the iPhone 4s has given us a tantalizing taste of this promised future... and we're lapping it up. However it's not all roses in our 2011 A.I. future tech fantasy. Sure Siri can schedule appointments, make funny quips and answer inane trivia questions with the help of Wolfram Alpha but she has one failing... to get her to listen you've got to have your hands on your phone and push a button. Somehow when we imagined the future of smart computer companions we assumed that shouting at them from across the room to do our bidding was part of the package. Apparently not.
Therefore you can see why we were forced to create the Iris 9000 voice control module for iPhone & Siri. Simply place your iPhone into the Iris 9000 cradle and use the included micro remote to trigger Siri up to 50 feet away. Just tap the Iris 9000 remote button once, listen for the Siri chime, and speak your command. The built in mic on the Iris 9000 picks up your voice from across the room and the embedded speaker amplifies Siri's spoken responses. You can also make and receive calls using the Iris 9000 like a standard speakerphone. Oh and did we mention that Iris 9000's glowing eye flickers along with Siri's voice? How's that for amazing Buckaroo Banzai future tech?
Product Features
Control your iPhone 4S and Siri from across the room
Classic Sci-fi styling. Aluminum accents.
Included micro remote triggers Siri with a single button press
Built-in mic picks up your voice at a distance
Embedded speaker amplifies Siri's responses
Use as a standard speakerphone to make and receive calls
Glowing LED eye flickers along with Siri's voice
Powered by included 120-240V AC adapter
ONLY COMPATIBLE WITH iPhone 4S
Patent pending technology
Exclusive product designed and manufactured by ThinkGeek
Teaser trailer:
IRIS 9000 won't be released until sometime in 2012 (likely sometime in April), but you can sign up to be notified on the ThinkGeek website. The product will be sold for $59.99.