Dan Clowes Still Working On 'Wilson' With Alexander Payne; Michel Gondry Collaborations Are Dead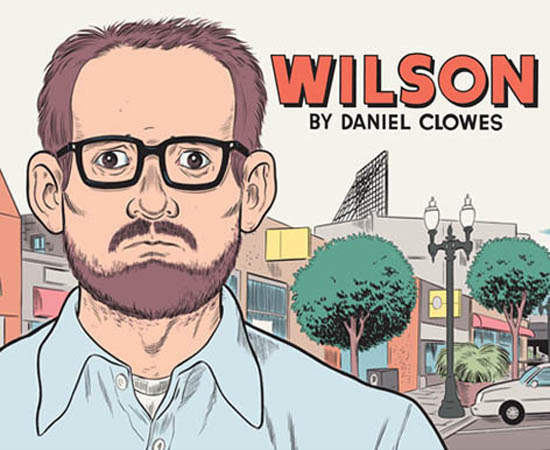 Last year, as Alexander Payne was getting going on The Descendants, we got word that he was also planning an adaptation of the graphic novel Wilson, by Ghost World and Art School Confidential creator Daniel Clowes. We haven't heard much about that project in a bit, but now Clowes says that the film is still in the works, and will be Payne's next film after the black and white father/son roadtrip movie Nebraska. While I wouldn't take the "next movie after Nebraska" idea as gospel, it is good to know the project isn't dead. Sadly, some other Clowes film projects are dead; we'll run down all the current status reports after the break.
Vulture has a good interview with Clowes, who says,
I finished a draft [of Wilson], and everybody seems very happy about it. Alexander Payne was making another film that was all ready to go, Nebraska, and Wilson is next. I'm about to go to Omaha in a few weeks to talk to him.
Wilson is about "a lonely, unemployed, self-loathing, passive-aggressive sad-sack who goes through life making himself and the people around him miserable." When originally reporting on the project I made the obvious comment that Paul Giamatti would be a good candidate for Wilson.
Naturally, Vulture asked Clowes about casting ideas, and he said "Robert Forster, that would be a great part for him, actually," before elaborating, "I don't know if we have something for someone as big as Jack Nicholson, though. But Alexander is a genius, and he'll find the right guy. Everybody's always very curious what I have in mind for casting, but I'm always thinking of actors from 1937! Like Sidney Greenstreet [who played "The Fat Man" Kasper Gutman in The Maltese Falcon], or [B-movie villain] Rondo Hatton."
There are also updates on other Clowes film projects. Megalomania, the animated film he was working on with Michel Gondry and Gondry's son, is dead:
I think we both thought because it was an animated thing it would be really easy to get it made, and then we realized the budget for animation is actually higher. And he just took so long making that Green Hornet. Damn Green Hornet!
Also dead, or more properly, something that never had a chance in the first place, is Master of Space and Time, which would have had the lead character changing gender from male to female halfway through ("That never got beyond the two of us going to pitch meetings and trying to get people to give us money") and Raiders, the film about the kids who did a shot-by-shot backyard remake of Raiders of the Lost Ark. (It died the day the fourth Indiana Jones movie got green-lit.") No real surprise that any of those three are dead, but it's good to hear the final word from Clowes.
The film that is still alive is Death Ray, another Clowes adaptation of his own comic story. Chris Milk is slated to direct, and that is still in the script stage.