Exclusive Art From Second 'Bad Dads' Show Inspired By The Films Of Wes Anderson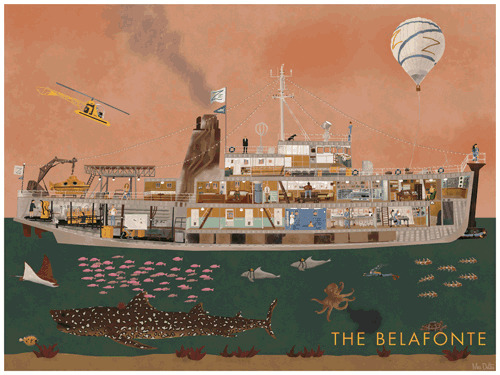 One year ago, the Spoke Art Gallery burst onto the scene in San Francisco with a show of art centered on the evocative and beautiful films of Wes Anderson. That show was called Bad Dads and now, to celebrate Spoke's one year anniversary, it's time for a sequel. The second Bad Dads exhibit opens October 29 and 30 at the Spoke Art Gallery in San Francisco and we're lucky enough to exclusively premiere several pieces from the show which are on sale now.
We've got three pieces by Joshua Budich, whose work you might recognize from Spoke's Quentin vs. Coens shows as well as Crazy 4 Cult and several detailed views of the above, glow-in-the-dark piece by Max Dalton, whose work continues to be nothing short of remarkable. Check them out and find out more information on the show after the jump.
The first three images are posters by Joshua Budich. The rest of the images are The Belafonte by Max Dalton. There's a static image, a GIF showing its glow in the dark elements, then a few detailed photos as well as an image of Dalton himself.
These posters are all on sale right now by heading over to the Spoke Art site.
If you'd like to see them in person, the show will have opening receptions at 816 Sutter St., San Francisco, CA on October 29 from 6-10 p.m. and again from noon-10 p.m. October 30. For more information the opening, go to the Facebook page. After that, it's open through November 22 on Tuesday through Saturday from noon to 6 p.m. Visit spoke-art.com for more information.