Watch Cameron Crowe's Pearl Jam Music Video 'Not For You'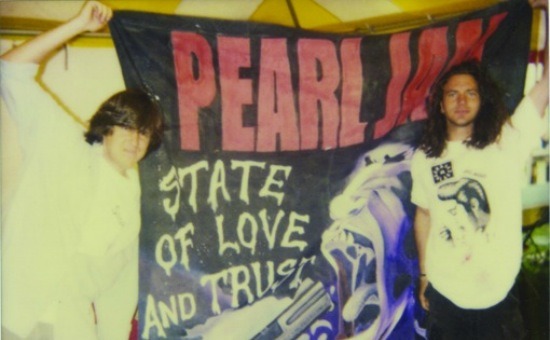 Pearl Jam Twenty, a brand new Cameron Crowe movie, is out on DVD today. The documentary is Crowe's ode not only to the multi-platinum band who came to personify the Nineties grunge movement, but also to music in the last twenty years as a whole. Crowe uses Pearl Jam as the conduit to tell the story of how grunge in the 1990s changed the cultural landscape much in the way rock in the Sixties, disco in the Seventies or metal in the Eighties changed how people lived their lives. From there, it shows how a group of people who've grown apart in many ways can find a common ground to still bring joy to people's lives after two decades.
Told with humor and passion, Crowe's Pearl Jam Twenty is a fine film even if you could care less about the band. For a little taste of what it has to offer, the IMDB has exclusively released a full length, never-before-seen music video for Pearl Jam's 1995 single Not For You, directed by Crowe, combining current and archival footage. Check it out after the jump.
Thanks to the IMDB for the video. Head there to see it in HD.
Here are a few quotes about the video and the film. First up, director Cameron Crowe:
We tried to present an emotional scrapbook of what it felt like to be a band member on this twenty-year journey. The richness of the footage made our path very clear – just tell the story of the band and let the music guide us. It was a joy to make this.
Next up, the IMDB Managing Editor Keith Simanton:
Who better to tackle a documentary on Pearl Jam, one of the most influential and important bands in the last two decades, than Cameron Crowe, whose experience straddles those decades and bridges journalism and moviemaking. Fans will be excited to see this full-length cut of 'Not For You,' which is not in the theatrical version of Pearl Jam Twenty, from a raw time when the band was still finding its place in the rock world. It's like Cameron Crowe has unearthed a time capsule for us and found a pulsar inside.
Pearl Jam Twenty is out now. Have you seen it yet? What did you think of the video?