Matt Damon And Ben Affleck Collaborating On Film About Famed Boston Crime Boss 'Whitey' Bulger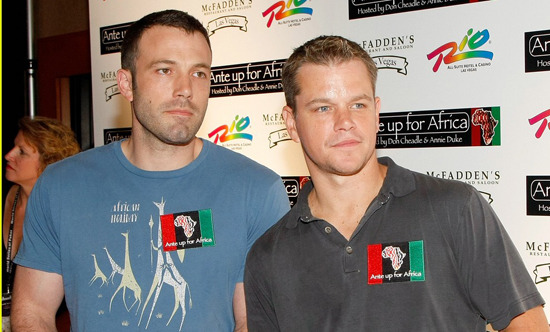 Matt Damon and Ben Affleck earned worldwide fame and screenwriting Oscars thanks to the film Good Will Hunting. While each has developed his own career in the years since, the possibility of another collaboration between Affleck and Damon has always been a subject of inquiry. Now, only days after Damon announced his intent to direct his first film (an as-yet untitled legal drama he co-wrote with John Krasinski) and Affleck was said to be the chosen director for The Stand, we've got word that the two are going to re-team for a new Boston-set picture.
The subject of the film, which Affleck will direct, is recently captured gangster James 'Whitey' Bulger. Whitey Bulger was a prominent member of Boston's notorious Winter Hill Gang (named for a Somerville, MA neighborhood) starting in the early '70s, and took control of the gang in '79. He  fled Boston in the mid-'90s and was on the run until this past summer, when he was arrested in Santa Monica. Other producers are putting together their own Whitey Bulger films, so will Affleck and Damon be able to beat them to the screen?
Speaking to GQ, Damon said,
We're doing a Whitey Bulger movie... Warner's got it for us. There are a couple of competing movies and I don't think it's been announced yet that we're doing it... But the sooner it's announced the better, just because everyone else will back off, hopefully. I'm really excited about it.
So consider this an announcement. Affleck will direct, Damon will star as Bulger, and Terence Winter (The Sopranos, Boardwalk Empire) is scripting. Deadline relays another quote from Affleck:
Matt and I have been looking for something to do together for some time. We've heard about Whitey Bulger since we were kids, and we are excited by the prospect of putting it on screen.
The site also says,
The story will cover Bulger's youth to his incarceration on Alcatraz, through his rise to become a mob boss while secretly serving as an FBI informant for decades.
This isn't the first follow-up collaboration that has been mooted for the pair. Last year there was the chance that Affleck and Damon would make the wife-swapping Yankees movie The Trade. That stalled for a few reasons, including resistance from the subjects of the fact-based story, and so the Whitey Bulger movie will happen first. Damon still says "that might happen at some point," of The Trade.
Damon also addressed stories about the film he co-wrote with Krasinski, saying,
It's about a salesman who goes to this small town and how the salesman is changed by his experience there... Nobody gets poisoned. [Referring to stories that paint the picture as an Erin Brokovich-style story in which a town is poisoned.] I don't know where that came from.
One of the other producers with a Whitey Bulger film in the works is Graham King, who backed The Departed, in which Damon acted and which used some of Bulger's story as inspiration for the character played by Jack Nicholson. There's also Black Mass, which Russell Gerwitz (Inside Man) is writing for producer Brian Oliver (Black Swan) and the adaptation of the book Street Soldier: My Life as an Enforcer For Whitey Bulger and the Boston Irish Mob by Edward MacKenzie and Phyllis Karas, produced by Peter Facinelli.