'The Dark Tower' Update: Producer Says Budget Cuts Ensure Film Will Get Made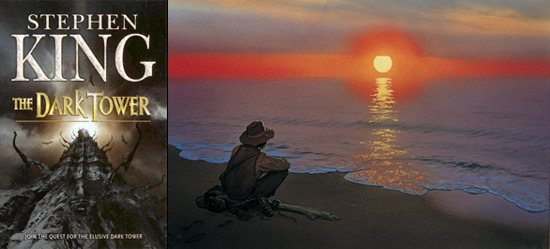 The story of getting Stephen King's massive The Dark Tower novel series to the screen isn't quite as long and complicated as the plots of the books, but it is getting close. The short form is that Ron Howard, Brian Grazer and Akiva Goldsman had The Dark Tower set up at Universal, with a very ambitious plan to produce three films and two linking TV mini-series based on the books. Universal was nervous about making something on that scale, and eventually put that project into turnaround, meaning that Howard, Grazer & Goldsman are able to shop it elsewhere.
Now Brian Grazer says the film(s) will definitely get made, because the budget has been slashed by over forty million.
The Playlist talked to Grazer during his press rounds for Tower Heist, and he said,
We found a way to cut out $45 million out of the budget without changing the scope and actually giving it a good ending... In the $140 million draft, the ending wasn't quite as satisfying. Now, we've got $45 million, $50 million out of the way and a really satisfying ending. It's gonna get made.
That's just about all the site got out of the producer, so we still have a lot of questions. Saying that the scope hasn't been changed suggests that we'll still see the three-film plan action. The script in question must just be for one film, however, as the idea that the trio has been able to pull the budget for more than one Dark Tower film down to a cumulative $100, is pretty outlandish. We knew that the script was being reworked to reduce the budget, but this goes a bit beyond the "not radical" changes that Ron Howard alluded to not long ago.
Javier Bardem has been attached to play the role of gunslinger Roland Deschain, and remains so, though the final shooting schedule for the film(s), whenever that comes together, may affect his participation. Ron Howard is about to shoot another movie, Rush, and then will possibly turn his attention back to The Dark Tower, assuming that financing has come together.