Joss Whedon Secretly Filmed A Shakespeare Adaptation While Working On 'The Avengers'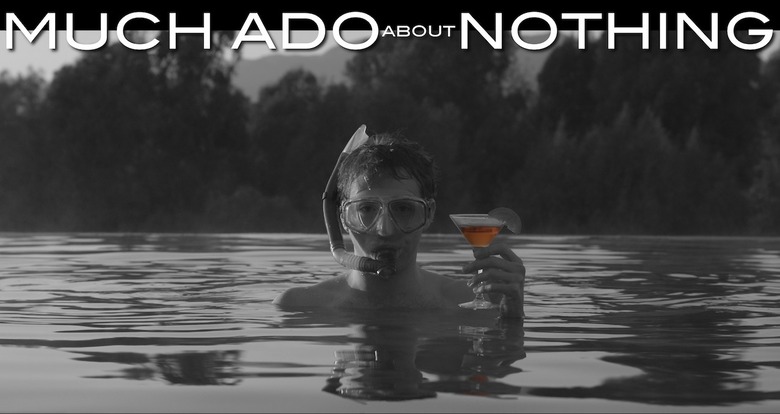 For most filmmakers, writing and directing a high-profile, big-budget would-be blockbuster with a slew of beloved celebs playing iconic characters would provide more than enough stress and excitement to keep them occupied for quite some time. But apparently, Avengers helmer Joss Whedon somehow still had energy left to burn — so much so that he's managed to squeeze in a whole other secret indie project even as he's still working on his other, bigger movie.
Sunday night saw the reveal of a website announcing the end of principal photography for Much Ado About Nothing, a mysterious new film starring Firefly's Nathan Fillion and Sean Maher among others. More details after the jump.
At present, the site simply reads "Bellwether Pictures is proud to announce the completion of principal photography" and describes the project as "a film by Joss Whedon based on a play." A list of actors' names appear, along with an odd photo of a man in a lake, wearing snorkeling gear and holding a martini glass. Trpcic has also stated that the movie would not include "tights and huge Elizabethean collars" (as suggested by one Twitter user), so we're assuming it'll be a contemporary update on Shakespeare's beloved play. In addition to Maher and Fillion (who plays a character named Dogberry), the movie also features previous Whedon collaborators Alexis Denisof, Fran Kranz, Amy Acker, Riki Lindhome, and Clark Gregg, plus Whedon newbies Spencer Treat Clark, Jillian Morgese, and more.
The original Much Ado About Nothing revolves around two very different couples. Benedick and Beatrice exchange sharp, sarcastic banter and start out as adversaries before they're tricked into falling in love. In contrast, Claudio and Hero are shy around each other and much sweeter and gentler in their affections. Both storylines seem perfectly suited for Whedon, who understands cutting remarks and awkward crushes equally well. Details on this new project — including how and when we'll actually get to see it — are still scarce, but that doesn't seem to be deterring fans' excitement any. I, for one, can honestly say that I'm looking forward to Much Ado About Nothing every bit as much as I am The Avengers.