Sequel Bits: Drew Pearce Hired To Write 'Sherlock Holmes 3;' Fourth 'Paranormal Activity' Very Likely; 'Sin City 2' Has New Nancy Callahan Story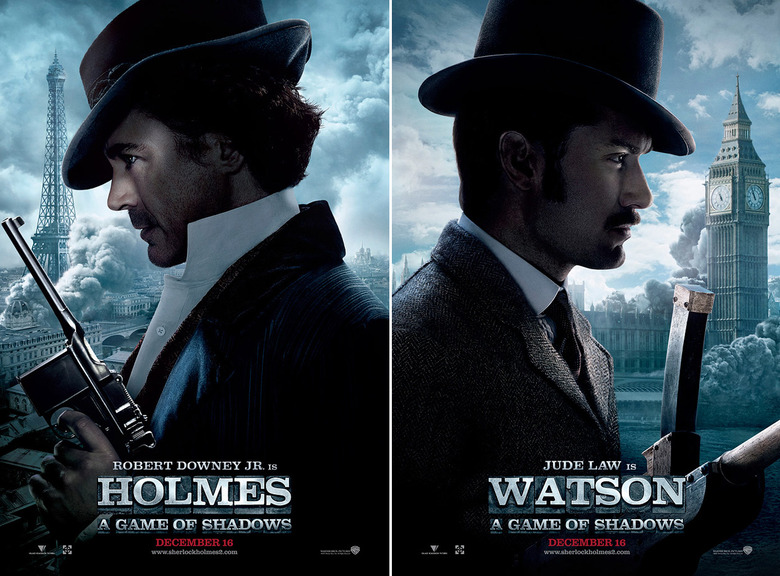 Can we assume that Robert Downey Jr. has become a fan of Iron Man 3 screenwriter Drew Pearce? Months before Sherlock Holmes: A Game of Shadows opens, Pearce has been hired to write the provisional  Sherlock Holmes 3 for Warner Bros. (Just as the studio hired A Game of Shadows screenwriters Kieran and Michele Mulroney to get to work on the script before Sherlock Holmes opened.) And since Pearce is writing the third Iron Man film, something Downey is likely quite involved in given his admitted disappointment with the second movie, it isn't difficult to assume that Downey had a hand in suggesting him to pen Sherlock 3. No plot has been revealed for the potential third film at this time. [Deadline]
After the break, one Paramount exec says Paranormal Activity 4 is almost a certainty, and Frank Miller talks Sin City 2.
Paranormal Activity 3 was a massive success this weekend, taking in $54m to score the best-ever opening weekend for a horror movie. And so you can expect that Paramount will quickly get moving on a fourth film. Speaking to the Wrap, Don Harris, Paramount's head of domestic distribution, said,
I can't imagine that we wouldn't make a number four, and I imagine (Paramount Film Group president) Adam Goodman this morning is thinking about the challenge.
That $54m opening was enabled by a $5m production budget for Paranormal Activity 3... well, that and tens of millions in advertising. Even with that advertising overhead, this sort of success on a $5m production budget looks pretty damn good. Not bad for the sequel to a film that Paramount bought originally planning to release in midnight or online screenings.
And then there's Sin City 2, which is still slowly moving toward shooting. Speaking to MTV, Sin City creator Frank Miller says that he and Robert Rodriguez are finishing up the script, and that the movie could shoot as soon as next year. He also says that Jessica Alba may be back for the sequel, because he's written her character into a new story for the film:
Sin City number 2 is primarily an adaptation of the book A Dame to Kill For. It also features the short story, 'Just Another Saturday Night' and two new stories. One involving Jessica Alba's character, Nancy Callahan, that I came up with for the movie in order to tie things together and make it be more united with the first.