A Blogger, A Director And An Actor Harness Passion To Create 'No Way Out'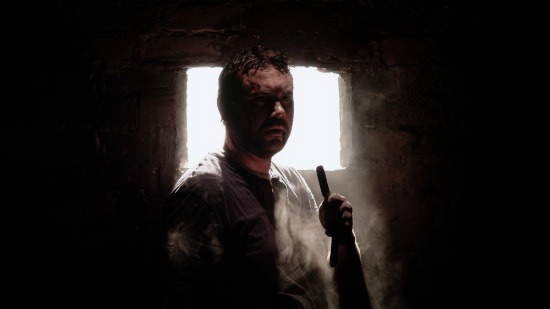 No one grows up with hopes and dreams to be a short filmmaker. People who want to make films aspire to make features and it takes time to realize the short subject is one of the best steps to achieving that goal. However, in the case of director Kristoffer Aaron Morgan, writer Eric Vespe and their short film No Way Out, they did things backwards.
Before No Way Out was even conceived, Vespe, best known as Quint from Ain't It Cool News, and Morgan had already sold Dimension the rights to The Home, their feature length, haunted nursing home movie. But when pre-production on that film was put on hiatus, the pair decided a short might be a good way to practice their craft and simultaneously hang with some of their Austin, Texas film friends.
Two thousand dollars later, they have No Way Out, a 10-minute short starring A.J. Bowen (The Signal, The House of the Devil, You're Next) as a lost and frightened man stuck in a basement with something unnatural. It played Fantastic Fest in Austin last month and /Film spoke to the writer, director and star of the short about how it came about, the art of the short subject and a collective love of film in general.
"I had something to say," said Morgan sitting in a karaoke room at the Highball in Austin, Texas. "We had an idea about anxiety and being paralyzed by your fears and we just wanted to work that out by telling a story."
Once that idea from Morgan, the director, and Vespe, the screenwriter, was flushed out, they put out the Batsignal to their Austin friends to help them make it a reality. When they received an overwhelming response from people willing to work for free and in all aspects of production, all that was left was a catalyst. Someone to  "blend everything together and make this thing explode." Enter Bowen, the winner of best actor at Fantastic Fest 2010 and friend of the duo. He was about to shoot You're Next but jumped at the opportunity to star in their small movie.
It's not work when you get a chance to collaborate and tell a story, whether it's 10 min long or two hours long. Any opportunity to do that is a blessing. It's why I wake up in the morning. It just seemed like the most logical thing in the world.
Logical, yes, and cheap. At only $2,000, the group set out to make a film that looked ten times more expensive. This was achieved thanks mostly to The Home. Morgan says "boring business stuff" had stopped pre-production on their Dimension feature but the producers allowed them to use one of the sets that had been under construction for No Way Out. Said Vespe:
It was fun to do it the soundstage way because it felt like playing with old Hollywood tricks.
No Way Out is filled with "old Hollywood tricks." It's quiet and frightening and the pair knew that in making it, they'd be making a calling card for the kind of tone they want their movies to have, even if it's not commercial. "This is very abstract," Morgan said. "In short subject, you can really force people to think more than tap dancing on the tip of their nose."
The film certainly does that. Bowen speaks all of three words, there's some kind of monster and then a scene that looks like a mix of Hannibal and The Matrix. I'll leave the rest to the imagination.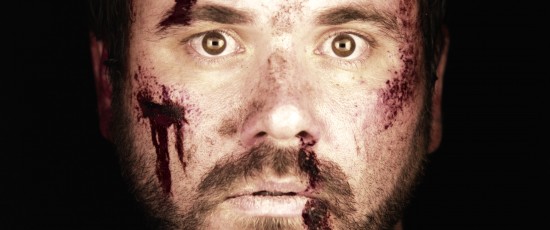 And even with a weird, abstract little movie like this, the trio never discussed the end game. It was only about making the best possible product and doing it in a very professional manner. Once production was done, they made a 4k master, a 5.1 digital sound mix and, when it was ready, decided Fantastic Fest, a place known for debauchery, alcohol and great films, was the best place to premiere it. "We wanted it to be a very theatrical experience," said Vespe. "And Fantastic Fest is like family."
That's not to say the film won't be released online at some point (the pair collaborated on a NSFW Fantastic Fest 2010 bumper called Plan B that's online right here) but No Way Out was more a test run to prove Vespe and Morgan could do what they love. Bowen put it into perspective:
These guys need to be making movies and audiences deserve to be getting to see their stories and so doing a short to, in anyway, facilitate that makes sense.
If all works out, they'll go back to work on The Home sometime in 2012. For now, No Way Out is our first real look at this rising filmmaking pair whose roots in movie blogs are paying off in actual movies.