Metallica Planning 3D Feature Film?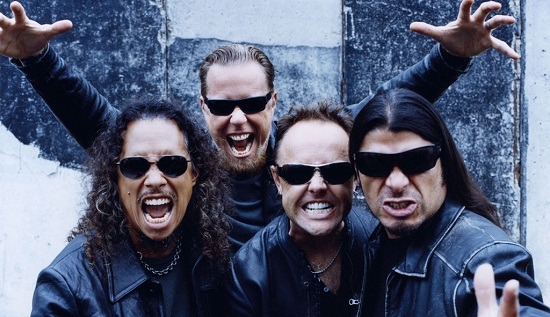 Might be a weird week to be Metallica. The band is on the verge of releasing Lulu, a collaboration with Lou Reed that has earned some of the most scornful reactions I've ever seen directed at any album in any genre. But no matter what happens, reviews be damned, Metallica keeps on going. I can respect that, even if I can't respect all of the work the band does.
The band has a strange place in film history. The first major film allowed to use the band's music was Paradise Lost: The Child Murders at Robin Hood Hills. The prominence the songs gave the documentary is credited with helping bring attention to the three young men, aka the West Memphis Three, convicted of murdering young boys in Arkansas. The association between the band and Paradise Lost directors Joe Berlinger and Bruce Sinofsky resulted in the 2004 documentary Some Kind of Monster, which chronicled the band's internal dysfunction in a way that has rarely been seen for any artistic group, much less a bunch of guys renowned for making heavy music for young men.
Now Metallica is evidently looking to self-finance its own film, which may be a 3D feature of some sort.
Deadline reports that the band has hired producer Charlotte Huggins (Journey to the Center of the Earth and Journey 2: The Mysterious Island) to work on a project. No director is hired at this point. In fact, we don't even know what the movie is. Deadline doesn't say whether it might be a concert film, a dramatic feature, a doc or something else.
Let's hope it isn't an exploration of the story behind Lulu, which is based on a theatrical production of stories by German author Frank Wedekind.
(The thing that bums me out about Lulu — which can be streamed in its entirety here — is that removed from the ragged, turgid songs in which they're encased, some of the riffs are the heaviest, most 'classic' and lively playing Metallica has committed to tape in years. Other parts, however, sound like revivals of established Metallica classics. The end of 'Mistress Dread,' for example, just sounds like 'Damage, Inc.' to me.)
Anyway, enough Lulu comments. Metallica is making a movie, and that is an interesting thing. It might not be a good thing, but I can't even pretend that I won't pay attention and hope for the best as it forms.