Ben Affleck To Direct Stephen King's 'The Stand'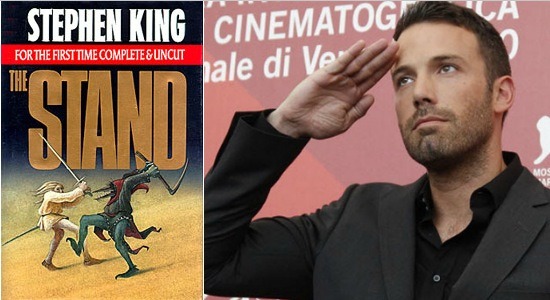 Who saw this one coming? Maybe only the Walkin' Dude. Warner Bros. has moved away from Harry Potter director David Yates to direct their big screen version of Stephen King's The Stand and onto Ben Affleck. The screenwriter/ actor turned acclaimed director is currently making Argo but is now reportedly the studio's top choice to helm King's massive tome about a virus that annihilates the entire world save for a few choice survivors who begin to share the same apocalyptic dreams.
Warner Bros. announced in May that the team behind the last several Harry Potter films, screenwriter Steve Kloves and director David Yates were going to adapt King's 1,000 plus page novel, possibly over three films. The move made sense. Kloves and Yates took another massive property, Harry Potter, and turned the films into a multi-billion dollar franchise. King's book is obviously less commercial, but very well-known and has the kind of huge, sweeping scope audiences love to see on the big screen.
Deadline's report doesn't say if Kloves is still in or why Yates is out. Just that Affleck is now up to bat. Even though he's directed two very solid films – Gone Baby Gone and The Town – and his latest, Argo, is much bigger, The Stand is something all together different. It's massive. And while Affleck's current directorial resume certainly seems like he can handle the huge cast of characters, the scope of The Stand is not yet in his wheelhouse. Then again, every major director has to make the leap and it seems like it's time for Affleck. Or maybe this doesn't happen at all. He has a ton of projects on his plate.
This is a story we'll certainly be following closely. But, for now, what are your thoughts on Affleck directing The Stand?
Thanks to Deadline for the info.