Lynne Ramsay To Make A Claustrophobic Sci-Fi 'Moby Dick'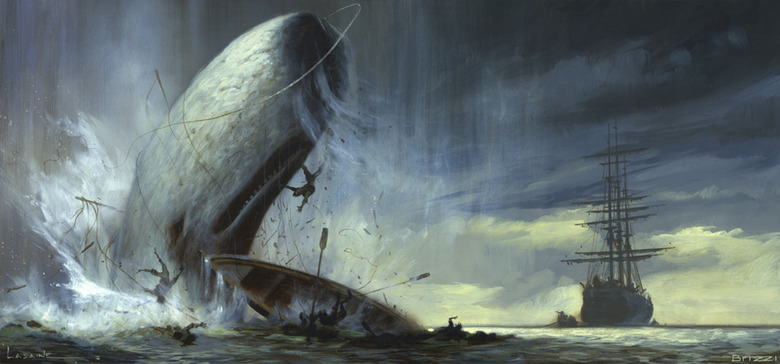 I'm a big fan of Lynne Ramsay based on her first two films, Ratcatcher and Morvern Callar. The conversations about her third, We Need to Talk About Kevin, have been extremely tempting to read, but I'm waiting to delve into those until I've had a chance to see the film for myself. Suffice to say that the film is polarizing, and sounds like a distinctive piece of work at the very least.
The director has said that she is mulling two possible projects, a drama set in Glasgow, and a bigger sci-fi film. The prospect of the latter is one of the more exciting things I've heard in a while — a strong female director moving into sci-fi? Yes, please. Now it seems as if that sci-fi film is her likely next project, and it is a re-telling of Herman Melville's landmark novel Moby Dick. How's that for a surprise?
The news broke on Simon Mayo & Mark Kermode's BBC 5Live film review radio show (via The Playlist), where Ramsay said of her next project,
This is really the first time I've spoken about, it's been very under wraps. It's more or less inspired by 'Moby Dick,' which is a fantastic novel, an American classic, but funnily enough a lot of people haven't read it. So I'm working on something loosely based on that. And it's science-fiction, so we're taking the premise into the galaxy. So we're creating a whole new world, and a new alien. A very psychological piece, mainly taking place in the ship, a bit like 'Das Boot,' so it's quite claustrophobic.
She draws a parallel to We Need to Talk About Kevin, in which the title character is a sociopathic young man, saying, ""It's another monster movie, cos the monster's Ahab. For a filmmaker, it's really interesting, because it's about this mad captain taking everyone on this crazy journey to their death, from his need to revenge."
Ramsay is scripting the movie now and hopes for a budget big enough to really allow her to play with the setting, but says she'll do it on the relative cheap if need be. Here's some of the interview:
Back to the general concept: when Timur Bekmambetov talked about making a stylish, action-tinged take on Moby Dick I was attracted to the idea only on the level of potential trainwreck spectacle. With Ramsay directing a similar sort of concept — but in all likelihood a very, very different film — I'm genuinely excited about the project. (Let us also remember the movie that is more or less 'Moby Dick with dragons.')