Watch The First Five Minutes Of 'The Three Musketeers'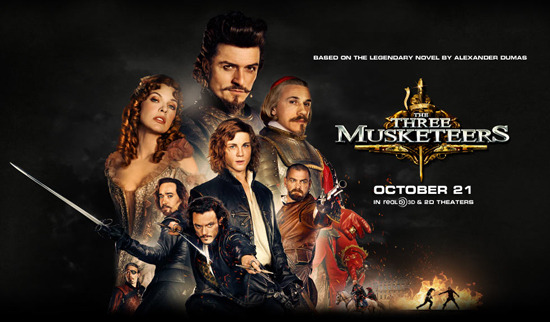 You might have seen the trailers for Paul W.S. Anderson's version of The Three Musketeers, naturally shot in 3D, and been left wondering if the movie is really for you. The film is on screens today, and to aid you in making the crucial ticket-buying  decision the first few minutes of the film have landed online. They're not in 3D, but I think you'll get the idea anyway.
Let's take an inventory. Here we've got improbably crossbows, two failed attempts at romantically witty repartee, a bit of Assassin's Creed cosplay, freeze-frame character introductions that would have been dated a week after Snatch came out, and some Hudson Hawk-level silliness involving Leonardo Da Vinci. All things considered, I think I'll just stay home at watch Hudson Hawk one more time.
I'll admit that I do like the jokiness of a character asking Orlando Bloom's character "who are you?" to which he replies by throwing back his hood and pausing for his namecard to splash across the screen. Was he answering her, or the audience? And Ray Stevenson, as Porthos, looks like he does the best job of putting across a strong, confident and fun character.
Apple has the clip in HD. The Three Musketeers features Logan Lerman, Milla Jovovich, Matthew Macfadyen, Ray Stevenson, Luke Evans, Mads Mikkelson, Gabriella Wilde, Juno Temple, Orlando Bloom, and Christoph Waltz.
Based on Alexandre Dumas' classic novel comes a big-screen action adventure update of The Three Musketeers, conceived and shot in state-of-the-art 3D. They are known as Porthos, Athos, and Aramis–three elite warriors who serve the King of France as his best Musketeers. After discovering an evil conspiracy to overthrow the King, the Musketeers come across a young, aspiring hero — D'Artagnan — and take him under their wing. Together, the four embark on a dangerous mission to foil the plot that not only threatens the Crown, but the future of Europe itself.