'In The Land Of Blood And Honey' Trailer: Angelina Jolie Makes Her Directorial Debut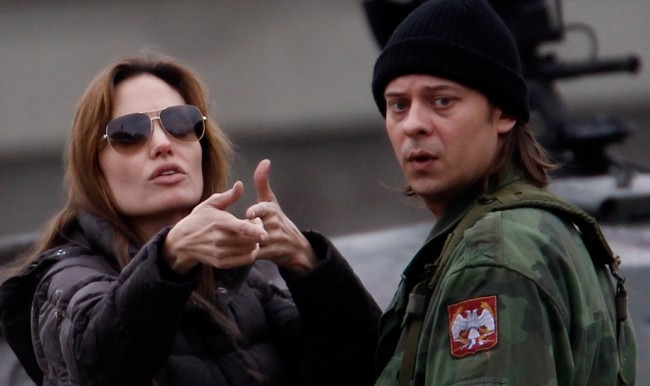 Actors are forever jumping behind the camera to try their hands at directing, with extremely mixed results. Sometimes it's Ben Affleck making a career comeback as the acclaimed helmer of Gone Baby Gone and The Town; other times it's Dermot Mulroney attaining that elusive 0% on Rotten Tomatoes with Love Wedding Marriage.
If the new trailer for Angelina Jolie's In the Land of Blood and Honey is any indication, it seems she happily falls into the former category. The Bosnian war drama follows two lovers on opposite sides of the conflict — a Christian Serb played by Goran Kostic and a Bosniak woman played by Zana Marjanovic — who find their relationship doomed by the civil war. Watch the trailer after the jump.
Update: A full-quality trailer has been released via Yahoo and is embedded below.
Sadly, it's not the best look at the movie, as the video is rather choppy. But technical difficulties aside, it looks pretty damn good. The plot seems to have real emotional resonance, and does a good job tying the romance to the larger global conflict without getting too cliched or preachy about it.
Now for the bad news: In the Land of Blood and Honey is also the subject of some controversy. Which isn't terribly atypical for a war movie, but one of the debates is about the origin of the story. Writer J.J. Braddock (a.k.a. Josip Knezevic) has accused Jolie of stealing from his 2007 novel The Soul Shattering, which also followed a couple torn apart by the international conflict. According to his complaint, there are significant similarities between the two works that indicate the overlaps are not mere coincidence –
for specifics, though be warned that there are spoilers at the link (via
).
For her part, Jolie's story is that she wrote the script in mere days while holed up with the flu — certainly not an impossibility, but even the most experienced screenwriters tend to take much, much longer to write. As far as I can tell, she has yet to address his accusations. We have no idea whether or not Braddock is right, but it'd be a damn shame if Jolie's promising debut were marred by something so ugly.
In the Land of Blood and Honey opens December 23.
Update:
posted the trailer, which you can find there in HD. Here's the official embed.