Joaquin Phoenix Won't Help Finish Final River Phoenix Film 'Dark Blood'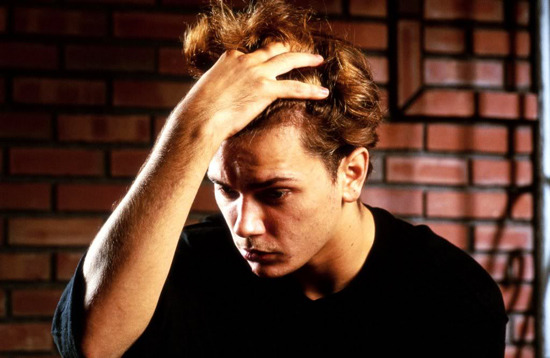 Yesterday director George Sluizer claimed that he would soon finish and release his film Dark Blood, which was originally in production in 1993. The movie starred River Phoenix, and was shooting at the time of the young actor's unfortunate death in LA. The movie halted there, and little has been heard of it in the nearly twenty years since.
So there was a ripple of surprise and excitement yesterday when Sluizer claimed that he would finally finish and release the film, and that he had the blessing of the Phoenix family. The director's idea was to possibly enlist Joaquin Phoenix to provide voice-over in character as the role played by his late brother. Trouble is, the Phoenix family now says it has not talked to the director, and isn't interested in working with him at all.
Deadline reports that the Phoenix family has released this statement:
Despite George Sluizer's claim that he has been communicating with River Phoenix's family in regard to releasing River's last film, Joaquin Phoenix and his family have not been in communication with the director nor will they participate in any way.
So did the director speak too soon, or is this an example of the family using the press in negotiations? I imagine it is the former, as Dark Blood seems like the sort of thing that the family would just as soon not see completed and released, given the film's relationship to River Phoenix's death.
There is also the question of legal trouble related to the film, as THR's original report yesterday mentioned "the legal issues surrounding a relase" for the movie, which a Dutch production company was helping work around. Could one of those issues be an injunction from the Phoenix family?
As Angie said yesterday, Dark Blood is about "about a hermit (Phoenix) living on a nuclear test site in the desert. When a glamorous Hollywood couple (Judy Davis and Jonathan Pryce) enter his orbit, he falls into a troubled relationship with the wife."