Eminem's Boxing Drama 'Southpaw' Makes A Comeback At MGM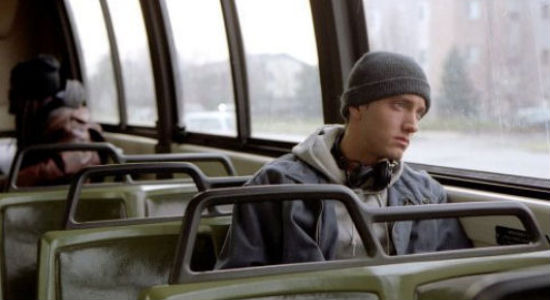 After getting brutally knocked out by DreamWorks, Southpaw is making a comeback. The boxing drama, directed by Antoine Fuqua and starring Eminem, was dropped by DreamWorks in August and has since been aggressively pitched to other studios. MGM has finally agreed to produce the movie with Sony set to distribute and production will likely begin next year.
Southpaw, written by Sons of Anarchy creator Kurt Sutter, centers on a left-handed boxer and his rise towards a championship in the midst of personal tragedy. It's said to mirror many of the true life trials of Eminem's life, much in the way the rapper's last film, 8 Mile, was a fictionalized story with real life inspiration.
Variety broke the news of Southpaw's comeback, which was also sought by Alcon Entertainment and Summit Entertainment before MGM got into the driver's seat.
Last year, when Sutter sold the pitch for the pitch for the film, he said the following to Deadline about how it all came together:
I took meetings with Marshall's producing partners over the past 7 years, looking for something to do together. I know he's very selective and doesn't do a lot. But he shared so much of his personal struggle in this raw and very honest album, one that I connected with on a lot of levels. He is very interested in the boxing genre, and it seemed like an apt metaphor, because his own life has been a brawl. In a way, this is a continuation of the 8 Mile story, but rather than a literal biography, we are doing a metaphorical narrative of the second chapter of his life. He'll play a world champion boxer who really hits a hard bottom, and has to fight to win back his life for his young daughter. At its core, this is a retelling of his struggles over the last five years of his life, using the boxing analogy. I love that the title refers to Marshall being a lefty, which is to boxing what a white rapper is to hip hop; dangerous, unwanted and completely unorthodox. It's a much harder road for a southpaw than a right handed boxer.
I'm glad to see Southpaw has found a new home as Eminem has obviously been very selective about how to follow up the 2002 hit 8 Mile. That's a great film and if the rapper is passionate about this one too, it's likely just as good.
Is this a movie you're looking forward to?