First Volume Of Graphic Novel Version Of Darren Aronofsky's 'Noah' Available In Europe; See Pages And A Trailer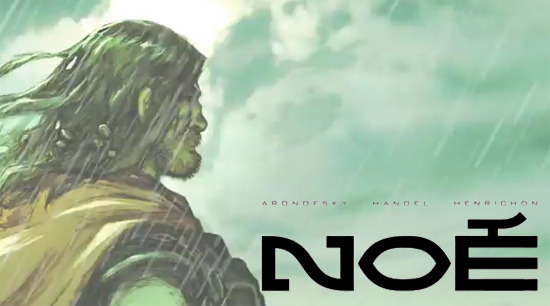 In February, as Darren Aronofsky was trying to find a studio to back his epic-scale take on the story of Noah, we learned that he and Ari Handel had begun working with Canadian artist Nico Henrichon to make a graphic novel version of the script. (A similar tactic was used by Aronofsky for The Fountain, in between the first unsuccessful incarnation of that film and the version that was eventually shot.)
Noah, the film, landed at Paramount not long ago. And the first volume of the graphic novel version, Noe, is already in stores in Europe. Check out the first few pages and some other info below.
This gallery, via publisher Le Lombard, features the cover and the first few pages of the book. (In French, sadly.) The 72-page book is available from the publisher at that link, for €15.95.
Here's the translated synopsis:
It was a world without hope, a world with no rain and no crops, dominated by warlords and their barbarian hordes. In this cruel world, Noah was a good man. Seasoned fighter, mage and healer but he only wanted peace for him and his family. Yet every night, Noah was beset by visions of an endless flood, symbolizing the destruction of all life. Gradually he began to understand the message sent him by the Creator. He had decided to punish the men and kill them until the last. But he gave Noah a last chance to preserve life on Earth ...
This is a slightly longer version of the book trailer that we presented back in February. That one has been pulled, so this is the best way to get a look at the book for now, short of buying it.
Henrichon recently said of the first volume,
This Volume 1 of Noah, to say a few words, I would say the introduction of a story rather confusing. Those familiar with Aronofsky films are sure to notice its tendency to stage events and ambiguous inatendus who pushed to their extreme limits, changing forever the fate of the protagonists. It's the same with our version of the myth of Noah. Those who believe that we are just going to recycle the myth of the Old Testament may be disappointed. I was told recently that the first volume was almost too normal for Aronofsky. Well done! To say more would spoil the surprise a little.
(That's translated from French, via AronofskyFilms)