'Piranha 3DD' Scream Awards Teaser Trailer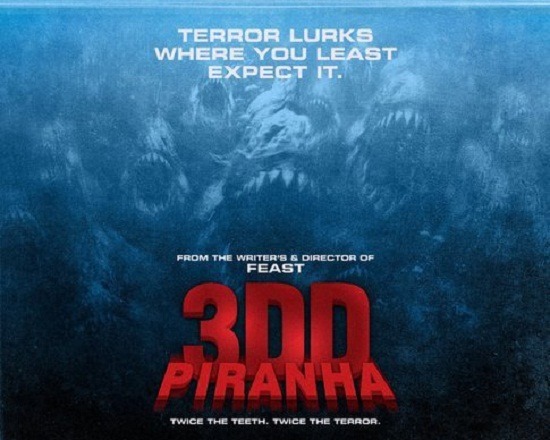 Here's the first teaser footage from Dimension's Piranha 3DD, the sequel to Alexandre Aja's revival of the Piranha series. If this teaser is to be believed, Feast director John Gulager hasn't changed the formula at all, so this sequel has some sort of story (featuring David Hasselhoff) partially pushed to the background as another group of partying bikini-clad beach babes gets chewed up by hungry prehistoric fish.
We see a glimpse of returning actors Christopher Lloyd and Ving Rhames, the latter of which comes bearing a Robert Rodriguez touch. That, and the whole tone of this teaser, makes Piranha 3DD look like something that might appeal to anyone who enjoyed the low-brow silliness of the last movie. In other words, this is exactly what you expect it to be. Oh, and it is mildly NSFW, as the title suggests.
Piranha 3DD features Danielle Panabaker, Matt Bush, Chris Zylka, David Koechner, Meagan Tandy, Paul James Jordan, Jean-Luc Bilodeau, Hector Jimenez, Adrian Martinez, Clu Gulager, Gary Busey, Katrina Bowden, Christopher Lloyd, Ving Rhames, Paul Scheer and David Hasselhoff.Saw 3D writers Marcus Dunstan and Patrick Melton wrote Piranha 3DD, which features the piranha  traveling through the town's plumbing, gaining access to swimming pools and a newly-opened waterpark.
The film was scheduled to open on November 23, but was pushed to some time in 2012. [Spike TV via STYD]