6 Minute 'Dark Knight Rises' Prologue Attached To 'Mission: Impossible Ghost Protocol' In IMAX [Updated]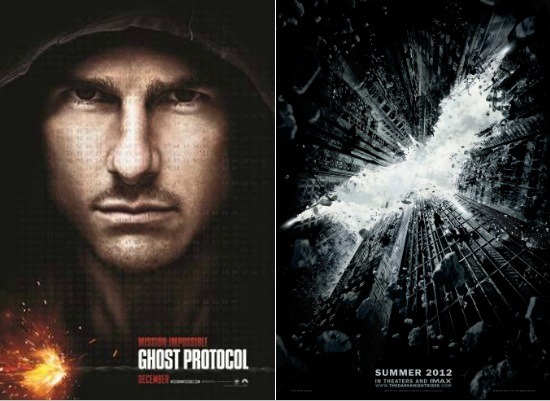 UPDATE: The prologue is actually six minutes, not eight. Independent sources have also confirmed the story.
A trusted theater (read: exhibitor) source has just exclusively alerted /Film that Warner Bros. plans to attach a six minute prologue to The Dark Knight Rises to all IMAX prints of Mission: Impossible – Ghost Protocol. Christopher Nolan's third film in his Batman trilogy is being released by Warner Bros. and Brad Bird's first live action film is Paramount, but the arrangement would certainly be mutually beneficial as Mission: Impossible is the biggest IMAX release of the holiday season. Putting a teaser for The Dark Knight Rises in front of it would certainly drive audiences to that format as opposed to regular theaters. There's more after the break.
Warner Bros. did something similar in 2007 when they attached the opening sequence to The Dark Knight to the Will Smith film I Am Legend. Without one of their own films being released in IMAX later this year, however, Mission: Impossible should draw in the same coveted 18-35 demo that are sure to be repeat Batman viewers. Nolan and Bird both also shot extensive scenes for each movie in IMAX, making it their format of choice for exhibition.
If this happens, audiences would get their first chance at seeing The Dark Knight Rises footage in IMAX on December 16. That's because Mission: Impossible – Ghost Protocol is opening exclusively in IMAX five days before its general release, which is on December 21. The exclusive opening is one reason to see the film in IMAX. The full scenes shot in IMAX format are another. And 8 minutes from the most anticipated film of this decade are a serious bonus.
Reached for contact, Warner Bros. declined to comment on this story but First Showing confirmed our report. So what do you think? Odds are you were going to see Mission: Impossible either way, but will you go now specifically for The Dark Knight Rises?