'Pirates Of The Caribbean: On Stranger Tides' First Streaming Title With Dolby 7.1 Audio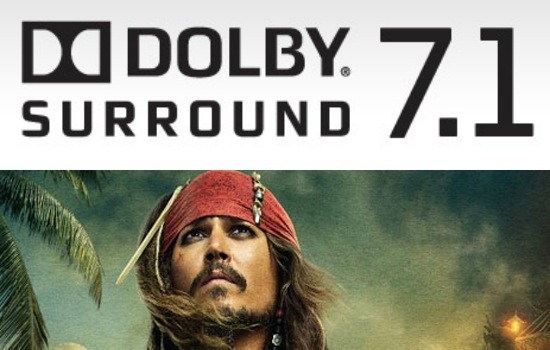 Home theater technology improves at an alarming rate. Televisions gets bigger and brighter, Blu-ray players get faster and more dynamic, speakers get smaller and louder and they all get cheaper and cheaper. The cycle is one of the primary reasons the home theater experience has turned so many people off from the theatrical experience.
Tuesday, home theaters got even better as Pirates of the Caribbean: On Stranger Tides became the first streaming release to be encoded with a Dolby Digital Plus 7.1 audio track. Right now it's only available on VUDU, an subscription-based streaming service owned by Wal-Mart, but seeing as this complex audio mix can now be brought into the home instantly, other providers are sure to follow suit. There more after the break.
Dolby sent out a press release touting this new advancement. Here's all the info:
Dolby Laboratories, Inc., today enabled the first discrete 7.1-channel surround sound entertainment experience available to streaming media using Dolby® Digital Plus audio. VUDU, a leading subscription-free, video-on-demand movie service and wholly owned subsidiary of Wal-Mart Stores, Inc., began streaming Walt Disney Pictures' Pirates of the Caribbean: On Stranger Tides in Dolby Digital Plus 7.1 audio today.
"We're thrilled to announce that the first entertainment content for an over-the-top or broadcast environment has been released in 7.1-channel surround sound, the best possible audio experience available for this type of delivery. It's great to collaborate with a leader in HD streaming like VUDU to enable consumers to enjoy the latest 7.1 films," said John Couling, Vice President, Products and Platforms, Dolby Laboratories. "Today is just the first step. We look forward to having the opportunity to work with additional content providers to deliver premium-quality 7.1 surround sound to more consumers."
To date, more than 30 films have been mixed in 7.1 for theatrical release. Dolby Digital Plus 7.1 allows content providers to enable these amazing 7.1 surround sound mixes created for the movie theater to be experienced in the home via streamed media.
Dolby Digital Plus 7.1 audio is currently available on select Blu-ray Disc™ players. Dolby Digital Plus is a sophisticated, bandwidth-efficient audio system based on Dolby Digital that is designed to adapt to the changing demands of entertainment delivery while retaining compatibility with existing home theater systems. It has been included in more than 430 million products worldwide, including TVs, set-top boxes, Blu-ray Disc players, audio/video receivers, and mobile phones.
Some of the key things to take out of that is that 7.1 is such a new and complicated audio mix (ready more about it on Dolby's official page), only around 30 films have been mixed that way theatrically. It's the best of the best. And the fact that it's now available over the internet – if your home system is able to support it – is a huge jump ahead for streaming technology.
Do you have a home system with 7.1 capabilities? Are you ever even able to hear the differences between regular surround or 5.1/6.1?