'London Boulevard' US Trailer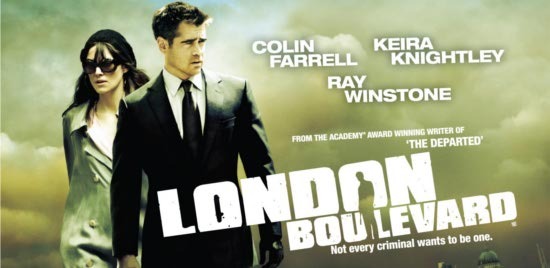 William Monahan, screenwriter of Kingdom of Heaven and Oscar-winning writer of The Departed, directed his first film back in 2009. London Boulevard opened quietly in the UK last year and is opening even more quietly in the States this fall.
The movie is an adaptation of a novel by Ken Bruen (who also wrote the books on which The Guard and Blitz were based) and stars Colin Farrell, Keira Knightley and Ray Winstone in a London-based gangster movie. Reviews haven't been particularly good — hence the quiet opening — but the cast is top-notch and the material looks fun and difficult to resist despite the tepid reviews. Check out a new US trailer below and get a taste of the action.
This looks to be a bit more Guy Ritchie than Martin Scorsese, unfortunately, and that could be a part of what factors into the dismissive reviews. But there's also just enough of a touch of In Bruges, with Farrell playing this character type, that I'm going to watch it anyway. Consider it a very thin appetizer for Seven Psychopaths, the upcoming film from In Bruges writer/director Martin McDonagh.
Check Yahoo for the HD version.
Fresh out of prison, Mitchell lands a legitimate job as a handyman for a rich actress who's eager to reward him with cash, cars and sex. But Mitchell can never truly escape his violent past or the dangerous world of loan sharks, druggies and other bottomfeeders.
London Boulevard has been On Demand for a couple weeks, and will open limited in theaters on November 11.