'The Descendants' Trailer #2: George Clooney Is Vulnerable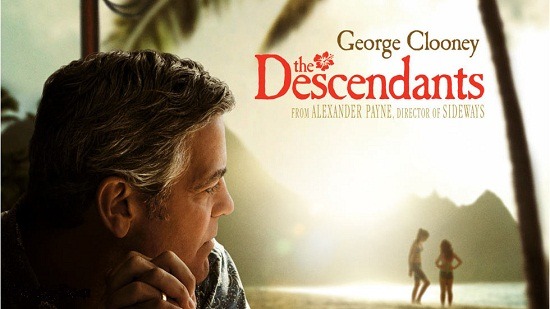 The first trailer for The Descendants, Alexander Payne's first feature film as director since Sideways in 2004, set up a lot of story: George Clooney is a relatively uninvolved dad who has to step up and take care of his two daughters when his wife suffers an accident, only to learn that there are things about his wife's life he didn't know.
This second trailer is more of a teaser that puts the movie across as a more gentle, perhaps even quirky story than we saw in the full trailer. It tells us that the fact that the story takes place in Hawaii shouldn't lead us to expect something cheery and easy, but then offers up a relatively cheery and easy look at the film. Oh, and the trailer is propped up in the middle by a nice two-part quote from some guy named Peter Sciretta. Check it out below.
That quote from Pete comes from his very enthusiastic Telluride review of the film. The general response to the movie at Telluride, at TIFF, and this past weekend at the New York Film Festival was similarly positive, with praise directed at Clooney's performance, but also at the entire ensemble, and towards Payne's ability to modulate the tone between drama and comedy without abusing his story. Good enough for me, especially as I like Clooney best when he is directed away from his tendency to be smug. I like smug Clooney — I'm a fan of the Ocean's films, after all — but seeing him leave that behind is refreshing.
See the HD trailer at Apple.
From Alexander Payne, the creator of the Oscar-winning SIDEWAYS, set in Hawaii, THE DESCENDANTS is a sometimes humorous, sometimes tragic journey for Matt King (George Clooney) an indifferent husband and father of two girls, who is forced to re-examine his past and embrace his future when his wife suffers a boating accident off of Waikiki. The event leads to a rapprochement with his young daughters while Matt wrestles with a decision to sell the family's land handed down from Hawaiian royalty and missionaries.
Fox Searchlight will release The Descendants on November 18.