TV Bits: New Shows For Mike O'Malley, Marlon Wayans, Bunim/Murray, 'Big Love' Creators; See 'Grimm' Early; 'Sons Of Anarchy' Renewed; Marvel Publishing 'Dexter' Comics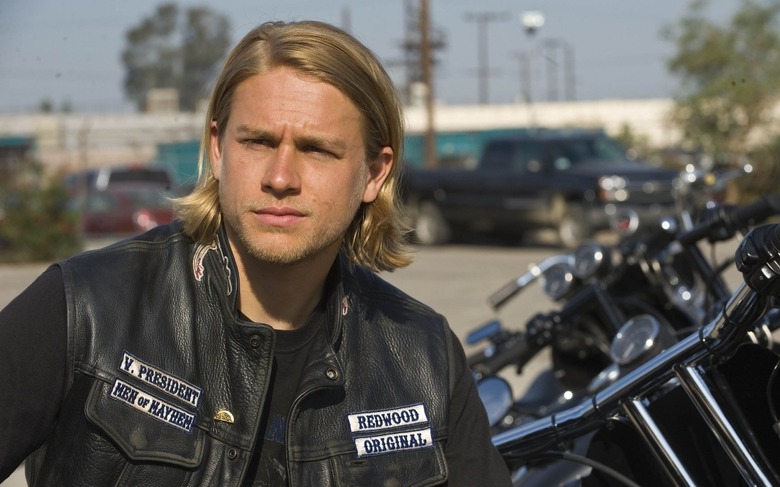 There's a little bit of something for everyone in today's very full TV Bits, whether your preference is for lightweight comedies, serious dramas, humanoid robots, or good-looking serial killers. After the jump:
HBO and the creators of Big Love team up for an unconventional family drama
Fox buys a boy genius sitcom from the guy who plays Kurt's dad on Glee
Marlon Wayans makes a return to television with a buddy cop project for ABC
Bunim/Murray and GameSpot prep an online series about gaming
NBC unveils a plan to bring Grimm to you early
FX gives a fifth season to Kurt Sutter's Sons of Anarchy
Marvel announces a comic book series for fans of Dexter
Also set to re-team are Glee co-star Mike O'Malley and Glee network Fox, who are working on a half-hour comedy titled Prodigy Bully. O'Malley is writing the series, about a boy genius who uses brains and brawn to get his way. The show is based on a series of one-minute shorts written and directed by Hank Perlman and starring Josh Flitter. John Wells Productions and Warner Bros. TV have been trying to get the project off the ground for some time, and even got to the pilot stage during the 2005-2006 season before O'Malley signed on.
Although O'Malley is most recognizable as an actor, he's been turning toward writing as of late. He recently picked up Best Screenplay at the Boston Film Festival for writing Certainty, starring Breaking Bad's Giancarlo Esposito. In addition, he's penned at least one episode of Showtime's Shameless. [Deadline]
Over at ABC, Marlon Wayans will make his return to television with a new comedy — his first TV series since The Wayans Bros., which Wayans co-created and starred in, ended in 1999. Wayans will serve as writer, executive producer, and star on the new hybrid single/multi-camera series, about two brothers who are both cops. When one of them hits a rough patch, he moves in with his brother (Wayans) and his family.
Wayans got his start on the small screen in the early '90s with In Living Color, but has focused primarily on films in recent years. His next project for the big screen will be a biopic of legendary comedian Richard Pryor, to be directed by Bill Condon. [Deadline]
Bunim/Murry Productions, best known for creating The Real World, will work with CBS Interactive's GameSpot division for The Controller, a web series revolving around Electronic Arts' upcoming shooter Battlefield 3. The reality competition show will center around six professional gamers who must train six amateurs for challenges inspired by the game; the pros, meanwhile, will face physical tasks. The teams will compete for a $50,000 prize. Hosted by Olympic skiier Jonny Moseley, with appearances by Internet figure Freddie Wong, the show will air weekly on GameSpot.com for eight weeks starting October 21.
Meanwhile, Spike TV and Sony are developing their own reality series titled Uncharted 3: Race to the Ring, which centers around the forthcoming game Uncharted 3: Drake's Deception. The series is currently filming and will hit Spike before the end of the year. [Variety]
NBC has announced a plan to give some fans an early look at the first episode of Grimm, two weeks in advance of its October 28 premiere date. The fairy-tale procedural stars David Giuntoli as a Portland homicide detective who learns that his destiny is to keep humanity safe from supernatural forces. The network will send direct messages to followers of the show's Twitter handle (@NBCGrimm) containing a URL and a unique code that will allow them access to the pilot episode, which will remain available until the series airs its first episode.
In addition, the network will hosting a series of screenings in ten cities throughout the U.S. between October 18 and 26; the Los Angeles and Portland events will also include post-screening Q&As with the executive producers and certain cast members. Hit Shock Till You Drop for the press release, which includes times and locations for the events. [STYD]
Now we'll move into more familiar territory, with updates on a couple of shows that are already on air...
FX has renewed Kurt Sutter's outlaw biker gang drama Sons of Anarchy for a fifth season, which will consist of 13 episodes. The series is currently drawing its highest ratings yet in its fourth season — it tops the rankings for scripted drama on basic cable, and last month's premiere was the most-watched program in the history of the network.
Charlie Hunnam leads the cast as motorcycle club VP Jax Teller, along with Ron Perlman and Katey Segal. But perhaps the person who draws the most attention is the notoriously outspoken Sutter, who was dishing out profanity-filled rants at haters of his series just a few days back on his Twitter account (yes, the same Twitter account he quit back in August). Let's hope this news cheers him up. [Deadline]
And finally, Marvel Comics revealed at this weekend's New York Comic-Con that it would be publishing a series of Dexter comics written by Jeff Lindsay, who penned the novels that inspired the TV series. The new pieces will fit into the continuity established by the books, which have the same basic premise as the series but don't have the same plotlines. So, okay, I suppose this isn't television news exactly — but if you dig Dexter, now's the time to get started on the novels so you'll be caught up in time to read the comics. [Bleeding Cool]