Criterion Collection To Release Digitally Restored 'Godzilla' On Blu-Ray And DVD In January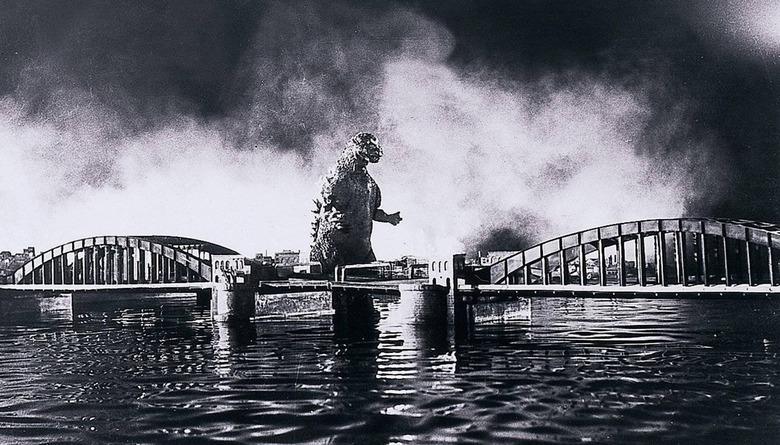 Fans of monster movies and/or the Criterion Collection probably recall that a couple of months back, rumors began surfacing of a Criterion Collection release of Godzilla — an unusual, though not unprecedented, pick by a video distributor that generally favors artsy pictures over genre flicks. So today's news won't come as a surprise, but rather a welcome update. Criterion has officially confirmed a January release for their Godzilla Blu-ray/DVD, and has unveiled a list of the special features we can look forward to. More details after the jump.
New high-definition digital restoration (with uncompressed monaural soundtrack on the Blu-ray edition)
Audio commentary by David Kalat (A Critical History and Filmography of Toho's Godzilla Series)
New high-definition digital restoration of Godzilla, King of the Monsters, Terry Morse's 1956 reworking of the original, starring Raymond Burr
Audio commentary for Godzilla, King of the Monsters by Kalat
New interviews with actor Akira Takarada (Hideto Ogata), Godzilla performer Haruo Nakajima, and effects technicians Yoshio Irie and Eizo Kaimai
Interview with legendary Godzilla score composer Akira Ifukube
Featurette detailing Godzilla's photographic effects
New interview with Japanese-film critic Tadao Sato
The Unluckiest Dragon, an illustrated audio essay featuring historian Greg Pflugfelder describing the tragic fate of the fishing vessel Daigo fukuryu maru, a real-life event that inspired Godzilla
New and improved English subtitle translation
PLUS: A booklet featuring an essay by critic J. Hoberman
Godzilla is one of the most enduring monster classics of all time, and has inspired dozens of Japanese remakes, reboots, and sequels. A 1998 American remake by Roland Emmerich fell sadly flat, though we've got higher hopes for the planned reboot by director Gareth Edwards and writer David Goyer. But however that turns out, it's definitely worth checking out the picture that started it all. Criterion's Godzilla will hit physical and virtual shelves January 24, 2012 for the suggested retail price of $39.95 for the Blu-ray, or $29.95 for the DVD.
Synopsis:
Godzilla is the roaring granddaddy of all monster movies. It's also a remarkably humane and melancholy drama made in Japan at a time when the country was still reeling from nuclear attack and H-bomb testing. Its rampaging radioactive beast, the poignant embodiment of an entire population's fears, became a beloved international icon of destruction, spawning more than twenty sequels. This first thrilling, tactile spectacle continues to be a cult phenomenon; here, we present the original, 1954 Japanese version, along with Godzilla, King of the Monsters, the 1956 American reworking starring Raymond Burr.