Kino Lorber Will Release 'Dogtooth' Director's New Film, 'Alps;' Watch A New Int'l Trailer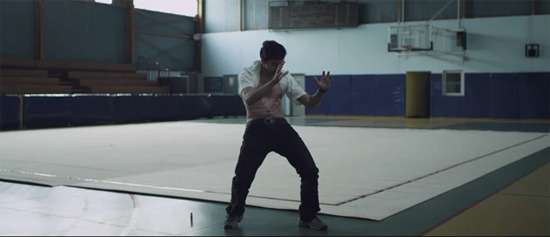 Since the film debuted at Venice, I've been trying to avoid reviews of Alps, the new film by Dogtooth director Yorgos Lanthimos. I've seen headlines and brief quotes that are generally positive; those, a couple trailers and the basic synopsis are all I'm willing to see before going into the film. (The synopsis is easy: a small group of people, led by a man who calls himself Mont Blanc, form a service to help people grieve by standing in for their departed loved ones.)
Now we know that there will definitely be chances to see Alps on US screens, as Kino Lorber has picked up the film for distribution. It won't be around until next spring, which is quite a while to wait, but better that than no distribution at all.
If you're also eager to see the next effort from the Dogtooth director, check out a new trailer below. The dialogue is entirely in Greek, but you'll be able to get an idea of the character of the film, at the very least. Those who've seen the director's last film will recognize certain elements and impulses very quickly.
The Playlist points us to the new trailer. It is weird, funny and absurd. There is also the element of deliberate provocation, just as in Dogtooth. The end of the trailer suggests that people who were irritated by the unorthodox framing of shots in Lanthimos' last film will be just as frustrated this time. This isn't quite as impish as the teaser we saw back in August, but it is still a good herald call for the film.
Here's the press release about the acquisition, via IndieWire:
KINO LORBER ACQUIRES THREE FROM MATCH FACTORY'S TORONTO SLATE: ALPS, WHORES' GLORY AND GERHARD RICHTER PAINTINGNew York, NY – October 17, 2011 –Kino Lorber is proud to announce the acquisition of all US rights to Alps (2011), a film written and directed by Yorgos Lanthimos whose Academy Award Nominated Dogtooth was released by Kino Lorber last year.The deal was negotiated by the company's President & CEO Richard Lorber (www.kinolorber.com), and Michael Weber, the Managing Director at Match Factory (www.the-match-factory.com/). In addition to Alps, this latest partnership between Kino Lorber and Match Factory – initiated at the Toronto International Film Festival – included the acquisition of two distinguished documentary features: Whores' Glory (2011), by Austrian filmmaker Michael Glawogger (whose 2005 documentary Workingman's Death was also distributed by the company), and Gerhard Richter Painting (2011), directed by Corinna Belz (Life After Microsoft).Alps will next be presented at November's AFI Fest in Los Angeles, with a New York City premiere and national release to follow in early Spring.  Whores' Glory will enjoy a run of festivals this winter followed by a March theatrical release, beginning at New York's Lincoln Plaza Cinemas. Gerhard Richter Painting will premiere in December at the prestigious showcase of Art Basel Miami Beach, and begin its national theatrical release on March 14 at New York's Film Forum.Richard Lorber commented: "We are delighted to be working closely again with Michael Weber and his team at Match Factory, following a most successful collaboration two years ago with our release of their Oscar Nominated Ajami. We had different but equally compelling reasons to be interested in each of the three films in this deal and it only made it more convenient that Match Factory represented them all. Their discerning taste in bringing a wide range of exceptional films to the world market remains unparalleled."Alps is the much-anticipated follow-up to last year's cult sensation (and Academy Award nominee) Dogtooth, by Greek director Yorgos Lanthimos. "A truly original work and a masterpiece of contemporary existentialism" (Cinema Scope), the film revolves around a mysterious underground group that approaches individuals and families that have lost loved ones, offering to impersonate the deceased. Writing in Variety, Boyd Van Hoeig observed that "Lanthimos' latest offers another heady mix of peculiar occurrences, anthropological and Freudian insights into the human species."The third film in Michael Glawogger's globalization trilogy (following Megacities and Workingmans' Death), Whores' Glory is an unflinching, and occasionally graphic, portrait of prostitution in Thailand, Bangladesh and Mexico. Writing in the Hollywood Reporter after the film's Venice premiere, Neil Young called it an "non-exploitative eye-opener [that] will enlighten anyone seeking better to understand what is famously a universal and timeless occupation."An exhilarating portrait of one of the most revered artists of our times, Corinna Belz's Gerhard Richter Painting is a penetrating study of a master at work as well as a fascinating comment on the art of seeing. "An art film in the literal sense," writes Variety's Alissa Simon, "Gerhard Richter Painting offers fascinating insight into the working process of the famed contemporary artist," as well as "a mesmerizing survey of his complete oeuvre."