TV Bits: 'Memphis Beat' And 'Charlie's Angels' Axed, Olivia Wilde Leaves 'House', 'Transporter' Star Injured, Fred Durst Makes CBS Deal, 'Hell On Wheels' Trailer, AMC Developing New Dramas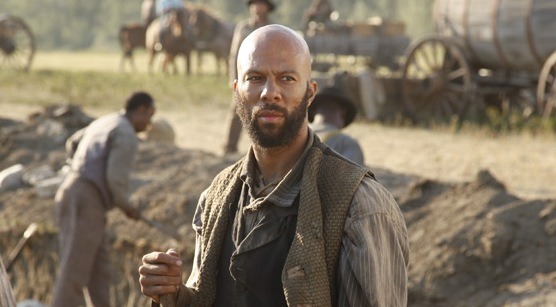 Our last couple editions of TV Bits have been filled with mostly good news, but today's is more of a downer, what with shows getting axed, a guy getting hurt, and, well, do you consider a Fred Durst sitcom bad news? At least AMC has some nice things to offer, including a new trailer for Hell on Wheels and some intriguing dramas in the works.
After the jump:
Charlie's Angels and Memphis Beat get cancelled
Olivia Wilde leaves House
Transporter star Chris Vance gets injured
Fred Durst signs a deal with CBS
Hell on Wheels gets a new trailer
Also dead is TNT's second-year series Memphis Beat, which the cable network has declined to renew for a third season. Memphis Beat joins Men of a Certain Age and HawthoRNe, which have also been cancelled; Leverage, Rizzoli & Isles, Falling Skies, and Franklin & Bash have already received renewals. [Deadline, here and here]
Olivia Wilde may have gotten her start in television, but these days she's a bona-fide movie star with no fewer than eight upcoming projects. It was only a matter of time before she left the small screen behind, and indeed, Monday's episode of House will be Wilde's last. Check out the preview below.
[via TV Line]
Production has temporarily stopped on Cinemax's Transporter TV series, as star Chris Vance recovers from an injury that befell him on the Toronto set. Though the exact nature of his mishap was not revealed, it apparently happened while Vance was filming an action sequence. But there's no need to panic — shooting is expected to pick up again in two weeks once Vance returns to "peak physical condition."
Vance leads the cast of the international series as driver Frank Martin, who was played in the movies by Jason Statham. The series is expected to premiere sometime next year. [Entertainment Weekly]
This next bit of news could be good or bad, depending on how you feel about Limp Bizkit frontman Fred Durst. Durst has just signed a deal with CBS to produce and star in a half-hour comedy, which is currently untitled but is "sometimes referred to as Douchebag." Durst will collaborate with CBS TV Studios producers Eric and Kim Tannenbaum on the show, which follows a rock star who tries to balance his high-profile career with his family life. Matthew Carlson (Mr. Sunshine) is on board to pen the script and executive produce.
Though Durst is best known for his music, he's been dabbling in film and television in recent years. He's appeared as a guest star on NBC's Revelations and Fox's House, and has directed The Longshots and The Education of Charlie Banks. [Deadline]
And finally, let's end on a somewhat more positive note. AMC has unveiled a new trailer for its Reconstruction-era Western Hell on Wheels, starring Anson Mount as a former Confederate soldier who winds up at the site of the Union Pacific Railroad's westward construction while seeking vengeance. Common, Colm Meaney, and Dominique McElligott also star. I've read a handful of early reviews that don't seem overwhelmingly optimistic about the series — it particularly seems to suffer in comparison to the late, great Deadwood — but AMC has put out enough quality dramas at this point that I'm very curious to check it out. Watch the video below and tell us what you think.
If you want more where that came from, you'll be happy to hear that AMC recently announced that it is developing three new drama projects. The first, from executive producers Ridley and Tony Scott, is set in the world of diamond trading. Kelly Masterson (Before the Devil Knows You're Dead) has been tapped to pen the script for the untitled series.
The second is Low Winter Sun, adapted from a 2006 two-part British drama starring Mark Strong and Brian McCardie. The "modern gothic tale" revolves around police investigators who kill a fellow officer whom they suspect of a crime, and promises "murder, high-level corruption, deception and cold-blooded revenge." Jeremy Gold, who also worked on Hell on Wheels, will executive produce.
And last but not least, there's Sacred Games. Kerry Williamson (I, Alex Cross) will write and executive produce the project, which is based on Vikram Chandra's novel of the same title. The Mumbai-set tale explores "organized crime, local politics and Indian espionage that lie below the surfaces of its economic renaissance." [The Hollywood Reporter]