See Chloe Moretz, Keanu Reeves, Michael Pitt, And More Recreate Iconic Martin Scorsese Scenes [Gallery]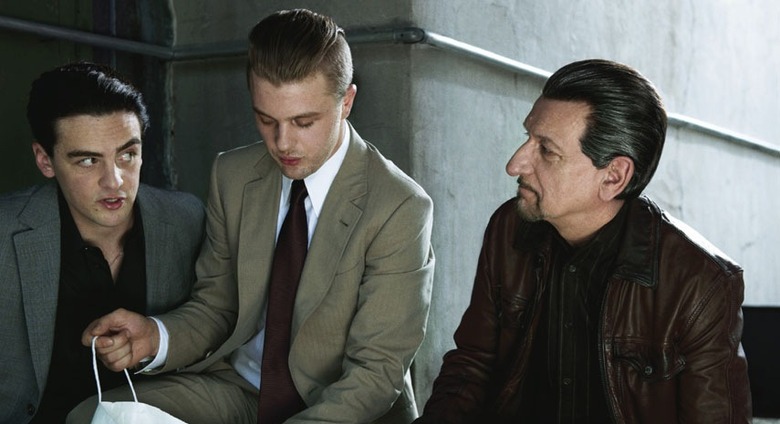 Really, you could call any of the past few decades "The Age of Scorsese" — the timelessness of his best work is what makes him such a revered filmmaker, and he's been working steadily since the '70s. But every fashion photoshoot needs an inspiration, so for their latest issue, Harper's Bazaar pulled together a bevy of stars to pay tribute to Martin Scorsese under that "Age of" title. The spread sees Chloe Moretz, Keanu Reeves, Christina Hendricks, Michael Pitt, Sir Ben Kingsley and several other high-profile actors come together to recreate some of the director's most iconic scenes. Flip through the photos after the jump.
[Harper's Bazaar via Thompson on Hollywood]
Some of the casting in these is more inspired than others — Moretz makes a good stand-in for Jodie Foster, but Kate Bosworth is no Michelle Pfeiffer, and in no universe would Reeves deserve to replace Robert De Niro. But this is Harper's Bazaar, not an actual film project. The aim here isn't to suggest ideas for casting an actual remake, but to shoot pretty pictures of attractive famous people in expensive clothing. On that front, mission accomplished.
Once you're done ooh-ing and ahh-ing over the photos, it may be worth heading over to the actual story, in which Foster, Sharon Stone, Steve Buscemi and other former Scorsese collaborators spill their personal tales about working with "Marty." There's nothing really revelatory here, unless you're curious about what Scorsese's mom cooked for dinner with Tom Cruise, but hey, it's the weekend. I think my favorite soundbite is this adorable one from Moretz, who stars in the upcoming Hugo: "There's an aura about him. He knows how to get that thing that makes it a Scorsese film; it's completely unspoken. But I haven't seen Taxi Driver yet. My mom won't let me watch it."