Footage From Stephen King Miniseries 'Bag Of Bones' Shows Pierce Brosnan Haunted By Ghosts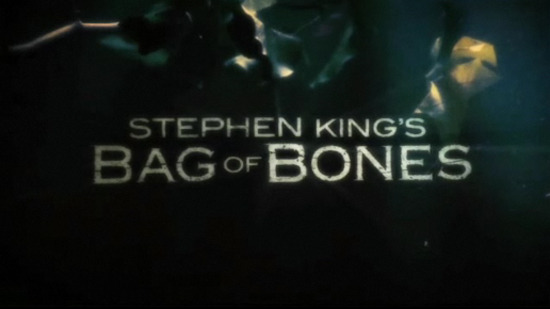 Stephen King's effective, often praised murder mystery novel Bag of Bones was released in 1998, but it will get new life this December as a four-hour movie that will air on AMC over two nights.
Frequent King adapter Mick Garris (TV versions of The Stand and The Shining) directed from a script by Matt Venne. The film stars Pierce Brosnan as troubled writer Mike Noonan, and features Melissa George, Jason Priestley, Annabeth Gish, and Anika Noni Rose. The first teaser has been released, along with a featurette that offers more footage. Check both out below.
Deadline has the teaser, which is not embeddable. When a YouTube version pops up we'll update, but in the meantime you can head to Deadline. The footage in the short teaser doesn't give us much idea of what to expect from the film — it's pretty stock modern ghost story stuff. The opening of the featurette is more illuminating, however. It feels to be like a midpoint between the Paranormal Activity films and Don't Be Afraid of the Dark, and Brosnan looks great.
Here's the featurette, via the LA Times, which has some interviews, a bit of behind the scenes footage, and that small bit of actual series footage.
If you need some background, a long synopsis of the book follows.
...the novel is a classic ghost story. It opens quietly as narrator Mike Noonan, 40, bestselling author of romantic suspense potboilers, describes the death of his wife four years back and his consequent grief and writer's block. Mike has kept the block hidden from the publishing world by annually pulling one of his own, unpublished manuscripts from a safe-deposit box. Now that he's out of old novels to submit, he resolves to work through his troubles at Sara Laughs, his country house in backwoods Maine. Arriving there, Mike nearly drives over a three-year-old girl. She is Kyra, granddaughter, by way of beautiful young widow Mattie, of mad computer mogul Max Devore, who is hellbent on snatching the girl from her mother. Taking up Kyra's cause, falling in love with Mattie, Mike gears up for a custody battle. Invigorated, he breaks through his writer's block. But great danger, psychological and physical, awaits, from Max Devore, but especially from the spirits, mostly malevolent, that haunt Sara Laughs due to hideous crimes committed by Devore's ancestor a century earlier. Violence, natural and supernatural, ensues as past and present mix, culminating in a torrent of climaxes that bind and illuminate the novel's many mysteries.