'Jeff Who Lives At Home' Trailer: Meet The Duplass Brothers' Wonderfully Dysfunctional New Family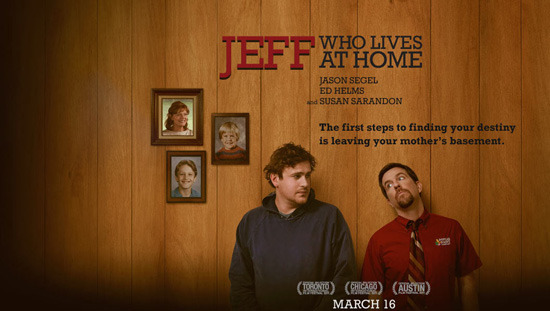 Yesterday we premiered the poster for Jeff Who Lives at Home, the new film from Cyrus writer/directors Jay and Mark Duplass. This one stars Jason Segel, Ed Helms, Judy Greer, and Susan Sarandon in a story of family dynamics and emerging self-awareness.
The trailer has just been released and, put simply, it looks wonderful. Check it out below.
Reviews for Jeff Who Lives at Home were great when the movie premiered at TIFF, and if this trailer is an accurate look at the film I can see why. (Check out the comments on the poster debut piece from others who have seen the film, too. There isn't a bad word there.) All four leads look like they deliver nuanced work that captures a lot of emotion without veering into the maudlin, and the script seems funny, touching and perceptive.
Apple has the HD trailer. Jeff Who Lives at Home opens on March 16.
On his way to the store to buy wood glue, Jeff looks for signs from the universe to determine his path. However, a series of comedic and unexpected events leads him to cross paths with his family in the strangest of locations and circumstances. Jeff just may find the meaning of his life... and if he's lucky, pick up the wood glue as well.