Seth MacFarlane Wants To Reboot 'Star Trek' TV Series, Talks 'Flintstones' And 'Family Guy'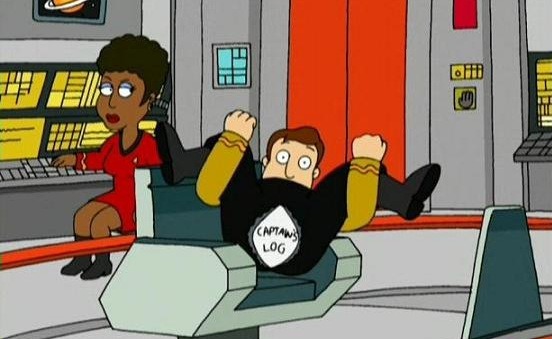 Love him or hate him, there's no denying things are looking up for Family Guy creator Seth MacFarlane. His series continues to be a hit in its tenth season, his feature film Ted is set to hit next year, he's updating the '80s PBS series Cosmos: A Space-Time Odyssey, and earlier this year, he finally won the rights to reboot The Flintstones for film and television. Now he's kinda-sorta got his eye on bringing back another classic property: Star Trek.
After the jump, read about MacFarlane's interest in the iconic sci-fi series, plus his thoughts on modernizing The Flintstones and (eventually) ending Family Guy.
MacFarlane is particularly eager to reboot one of his favorite franchises, Star Trek, for TV. "I don't know who would give me the keys to that car," he jokes, acknowledging that the films have been so profitable for Paramount that he isn't so sure they have a lot of interest in getting back into the TV business. "But I'd love to see that franchise revived for television in the way that it was in the 1990s: very thoughtful, smartly written stories that transcend the science fiction audience."
Although his words sound more like idle musing than a serious bid to bring Star Trek back to the small screen, MacFarlane may actually have the clout to make it happen if he sets his mind to it. He's grown Family Guy into a multi-billion dollar empire, and is apparently such a power player that his agent "regularly fields calls for him to do everything from directing or starring in films to producing live-action shows or digital series to taking on Broadway." Moreover, MacFarlane clearly does love the series — Family Guy has featured tons of Star Trek references and even a Star Trek: The Next Generation cast reunion in past episodes.
If MacFarlane decides he wants to tackle this challenge, he won't be the first. A few different proposals have already tried and failed to get off the ground, and David Foster recently revealed that he was developing a series set in the post-Voyager era.
MacFarlane also spoke with the magazine about what he might need to change about The Flintstones to update the franchise for the modern age. Surprisingly, the answer seems to be "not much."
To hear MacFarlane tell it, there isn't a tremendous amount that needs refurbishing with The Flintstones, outside of such things as the characters' devices, which he suggests were prehistoric versions of 1960s technology in the original version. (Expect iPads in the MacFarlane version.) The updates will be more evident in the series' writing: "Fred skipping out on the opera to go to the lodge is something that probably would need to be a little fresher in 2011," he says of a series efforts that will be broader and more accessible, a la The Simpsons, as opposed to the bawdier, more irreverent Family Guy.
Of course, it'll be some time yet before we learn how the MacFarlane version of The Flintstones turns out, but it sounds like he's at least got the right idea.
As for the show that started it all, MacFarlane expressed a little more ambivalence:
Part of me thinks that Family Guy should have already ended. I think seven seasons is about the right lifespan for a TV series," he says of a show that launched its tenth season last month. "I talk to the fans and in a way I'm kind of secretly hoping for them to say we're done with it. There are plenty of people who say the show is kind of over the hill... but still the vast majority go pale in the face when I mention the possibility." As he sees it, there's something to be said for wrapping up the series and doing a movie once every couple of years. "Creatively, that would be the way to do it for me. Do a really fantastic final episode while the show is still strong," he says, acknowledging that there are plenty of powerful reasons — including the viewer demand and the amount of people employed by the series, some 300 people in total — to give him pause. (There is a deal in place for a Family Guy movie, which he is writing with series co-producer Ricky Blitt; it's now a matter of finding time in MacFarlane's schedule to make it happen.)
Head over to The Hollywood Reporter to read more highlights from the MacFarlane interview.
Discuss: Well, there's a lot to talk about here. Is MacFarlane the right guy to bring Star Trek back to television? Do you even want to see Star Trek return to television? Do you trust him to update The Flintstones? Would you like to see Family Guy end, and if so, is it because you want them to quit while they're ahead or is it just because you hate the series?