Apple Releases iTunes Movies Trailers App For iOS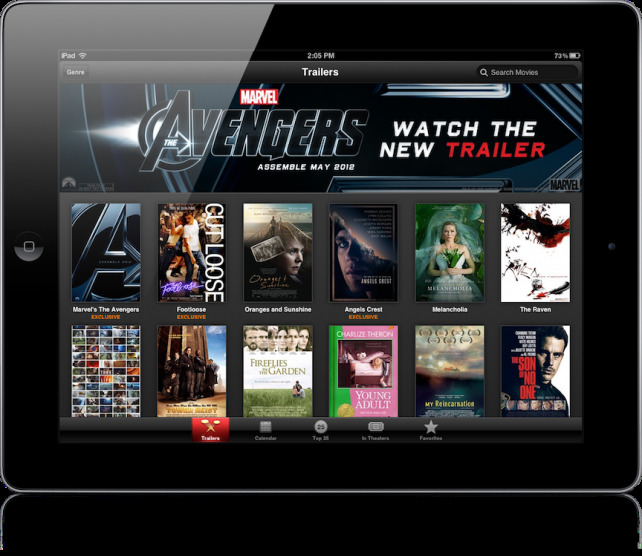 Last week was a horrible one for Apple, but this week the company is making news for much more positive reasons. The new iteration of the iPhone, the 4S, releases on Friday, and the company's new mobile operating system, iOS 5, hit today. Along with that new system software comes a number of new apps.
The most movie-friendly app by far is a surprise release: a dedicated iTunes movie trailers app. This isn't just a framework for presenting Apple's trailer content, however. The app is making a run at Flixter's cross-platform Movies app, by offering a handy release calendar and means to check local theaters for tickets. Get more details below.
The basics of the app are pretty simple: it collects the trailers available on Apple's site, and offers a great info page for each movie, as seen in the first image in the gallery below. The calendar offers a tidy lineup of releases by day — scrolling through this on the iPad is, at first glance, a pretty good way to browse upcoming films. And the showtime pages have a nice little graphic interface displaying the showtimes for each film at a theater.
Here are the official details:
Product Features:
• Access hundreds of movie trailers, clips, behind-the-scenes featurettes, and images, available in HD or SD.
• Explore an interactive, year-long release calendar that helps you plan when you'll be going to the theaters.
• Save favorite movies and theaters for immediate access anytime.
• Search what's playing at your local theaters and purchase tickets directly from your iPad or iPhone.
• Save images to your iPad photo gallery, to use as iPad or desktop wallpapers or send to your friends.
• Browse top charts to view the most downloaded trailers, box office rankings, and top movies on iTunes to buy or rent.
• Enjoy your favorite movie trailers on your TV with AirPlay and Apple TV.
• Email or tweet trailer recommendations to your friends.
• Use iCloud to push your favorite theaters and movie trailers to all of your iOS devices.
Requirements:
• iPhone 3GS, iPhone 4, iPad, iPad 2, iPod touch (3rd generation), or iPod touch (4th generation) is required.
• iPhone, iPad, or iPod touch must have iOS 4.3 or later.
• Syncing with iCloud requires iOS 5 or later and a valid iCloud account.
• iPhone, iPad, or iPod touch with internet access using Wi-Fi or 3G.
iTunes Movie Trailers, a free release, is available now in the App Store. It requires a minimum of iOS 4.3.