Robert Redford's 'The Company You Keep' Adds Anna Kendrick, Terrence Howard, Brendan Gleeson, And Sam Elliott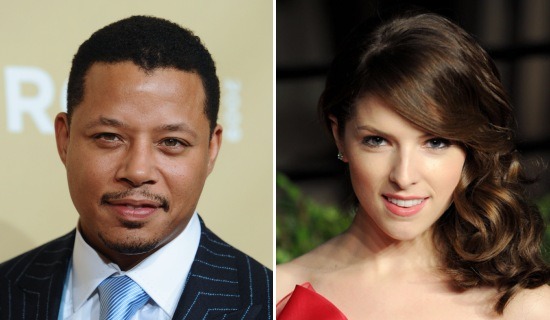 Robert Redford's directorial effort The Company You Keep already boasts a top-notch cast, with Julie Christie, Susan Sarandon, Nick Nolte, Brit Marling, Shia LaBeouf, Stanley Tucci, Richard Jenkins, Stephen Root, and Redford himself all signed on. But apparently,there's still room on the roster for more impressive talent. Anna Kendrick, Terrence Howard, Brendan Gleeson, and Sam Elliott have just boarded the cast of the political thriller, along with 11-year-old newcomer (and America's Got Talent finalist) Jackie Evancho.
The Lem Dobbs-scripted adaptation of Neil Gordon's novel centers around Jim Grant (Redford), a former Weather Underground member who's been on the FBI's wanted list for the past three decades. When a determined young reporter uncovers the truth about his past, he's forced to go on the run. With so many new actors joining up, there's a lot of info to sort through, so hit the jump for more info on their roles.
Kendrick has taken the role of Diana, an FBI agent and LaBeouf's ex. She feeds LaBeouf's character some key information that leads to him discovering the truth about Grant and the Bank of Michigan robbery.
Gleeson will play retired police chief Henry Osborne, who was part of the '60s investigation into the same robbery.
Howard will co-star as Cornelius, an senior FBI agent who's been searching for Grant. He spearheads a task force assigned to track and take down former Weather Underground militants who've been in hiding for the past 30 years.
Elliot has been cast as Mac, Christie's former flame and her boss in the marijuana trade. I don't think we knew that Christie would be playing a pot dealer, but there you go.
Evancho has landed the role of Grant's daughter, who's in the dark about her father's dark history. Cooper was previously announced in the part of Grant's brother, who takes care of his niece while Grant disappears, so it seems reasonable to assume she's the child in question.
That's a lot of stars for one movie, so we probably shouldn't expect that they'll each get a ton of screentime. Still, I'm always thrilled to see such great actors working together, and I love that Redford's assembled a cast of both established talents like Sarandon and rising ones like Kendrick. Whatever comes of Redford's direction and Dobbs' script, it seems like The Company You Keep will be worth a look just to see these actors playing off of each other. The film is currently shooting in Vancouver.
[Variety]