/Film Exclusive: Mad Magazine Does 'The Walking Dead'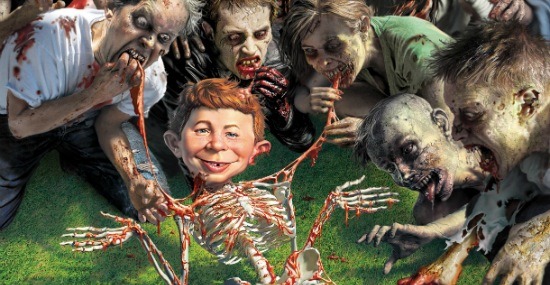 On a regular basis, /Film posts t-shirts, videos and photos the poke fun at the popular culture we love. These things can be cute, seem novel, but parodying pop culture is far from a new practice. Mad Magazine has been giving pop culture the business for almost 60 years and continues to do so today. Its mascot, Alfred E. Newman, is a cultural icon in his own right and many of the stars and properties we know and love consider it a badge of honor for Mad to notice them and make them look stupid.
The latest property to get the Mad Magazine badge of dishonor is the hit AMC show The Walking Dead and in advance of Mad's panel on October 16 at New York Comic-Con, we're proud to exclusively premiere the cover of their December 2011 issue featuring that show. Check out the full version after the jump.
Here's the cover of issue 512 of Mad making fun of The Walking Dead. Click for a high res version.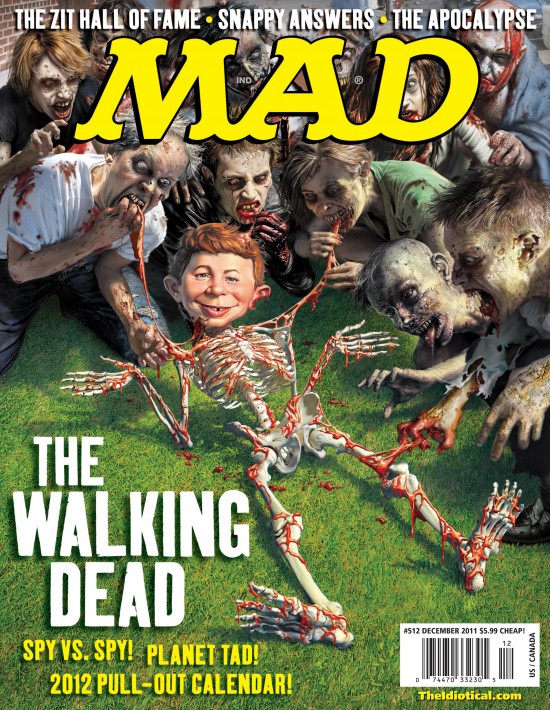 The first issue of Mad was October-November 1952 meaning next year marks their 60th anniversary. Before that happens, though, they're having a panel at New York Comic-Con next weekend. Here are the details:
12:15pm – 1:15pm October 16 – MAD is more than just the best-selling humor magazine in the nation – it's also the inspiration for the hit animated series on Cartoon Network, now in its second season! Find out what's happening with the Usual Gang of Idiots in this panel featuring MAD Magazine editor John Ficarra, art director Sam Viviano and TV producer Kevin Schinick! Room 1A24
What are some of your favorite images from Mad? Do you still read it? Is it truly a badge of honor to get a mention in this iconic magazine?