TV Bits: Netflix May Revive 'Reno 911!', NBC Cancels 'Free Agents', CW Cancels 'H8R', Adult Swim Renews 'NTSF:SD:SUV', Cinemax Renews 'Strike Back'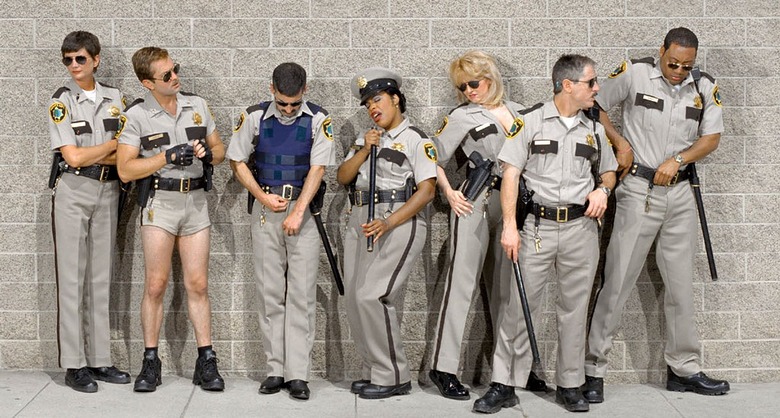 Let's call this the "life or death" edition of TV Bits, as it's all about renewals, cancellations, and even one possible renewal of a previously cancelled series. After the jump, more on:
Renewals for Cinemax's Strike Back and Adult Swim's NTSF:SD:SUV
Cancellations for The CW's H8R and NBC's Free Agents
And last but not least, the possible revival of Reno 911!
Shamberg, Reno 911! colleague Stacy Sher and Netflix CCO Ted Sarandos hatched the idea during a meeting earlier this year in which the three were discussing opportunities to work together. When they realized Reno 911! was consistently a popular title on Netflix, Sarandos suggested doing more episodes of the show. Reno 911! originally ran for six seasons (a total of 88 episodes) on Comedy Central before it was cancelled in 2009.
As with the possible Arrested Development return, the potential resurrection of Reno 911! marks a movement by services like Hulu and Netflix toward more exclusive programming as a way of setting themselves apart from competitors. If that means more shows I like will get brought back from the dead, I'm all for it. Now, who do I talk to about getting additional episodes of Terriers and Better Off Ted? [Vulture]
While Reno 911! is working on coming back to life, two more freshman shows have bitten the dust. The CW has cancelled the Mario Lopez-hosted "celebrities are people too" series H8R, while NBC has given the axe to the Hank Azaria/Kathryn Hahn sitcom Free Agents.
I haven't seen either show, but the overall response I've been seeing to H8R's demise has been along the lines of "good fucking riddance." The show saw D-list celebrities like Snooki and Jake from The Bachelor confronting ordinary people who'd criticized them on the Internet. In its stead, the CW will be showing repeat episodes of the Sarah Michelle Gellar drama Ringer on Wednesday nights.
Popular opinion seems to be more sympathetic about the end of Free Agents, which received generally positive reviews but dismal ratings. The series starred Hahn and Azaria — both reliably excellent comedy actors — as two co-workers from a PR firm who begin sleeping together. NBC will air repeats of Whitney in the Wednesday 8:30 PM slot vacated by Free Agents. [Deadline, Entertainment Weekly]
On a happier note, this week also brought renewals for Cinemax's Strike Back and Adult Swim's NTSF:SD:SUV. The former is the first primetime drama by the network, and revolves around a former U.S. Delta Force operative (Sullivan Stapleton) who joins a top-secret counter-terrorism intelligence agency. The first season of the action series premiered in August and will end October 21. The ten-episode second season is scheduled to begin shooting early 2012 in South Africa.
The similarly themed but tonally disparate NTSF:SD:SUV, a procedural/action parody created by Paul Scheer, will also begin filming early next year for a 2012 second season debut. Its well-rated first season ended earlier this week. In case you're wondering, the letter stand for National Terrorism Strike Force: San Diego: Sport Utility Vehicle. [Deadline, Vulture]