The Sounds Of 'Real Steel'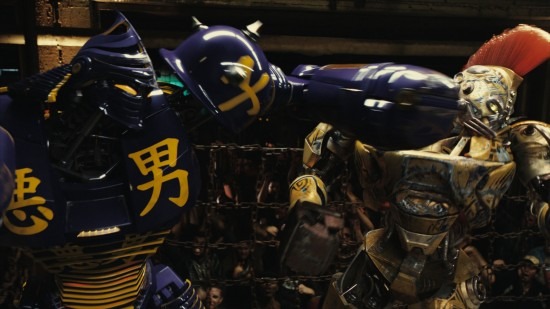 Crowds cheering, people screaming, metal crunching and pistons pumping. Sounds in Shawn Levy's new film Real Steel are incredibly intricate. The film, which stars Hugh Jackman, Dakota Goyo and Evangeline Lilly, is set in a near future where the most popular sport in the world is robot boxing. If you think about normal boxing, the sounds are already complicated: heavy breathing, feet shuffling on the mat, leather pounding skin. Putting mechanical robots into the ring then creates a whole new set of problems. What do electronics sound like when they're fighting? After the jump, check out the latest video from the Soundworks Collection about how the sounds of Real Steel were captured.
For more information on this video and the film, head over to Soundworks.
SoundWorks Collection – The Sound of Real Steel from Michael Coleman on Vimeo.
Here's the description:
Who says robot boxing won't happen in 2020?! "Real Steel" plays out this fantasy as robots have replaced humans in boxing in this Shawn Levy film ("Night at the Museum" franchise and "Date Night").
Charlie Kenton (Hugh Jackman) loses a chance to become a boxing champion when robots take over, and he becomes a small-time promoter. When he has difficulty making a living, he reluctantly teams up with his son Max (Dakota Goyo) to build a robot that can contend for the championship.
The stunning visual effects behind the robots can only be brought to live by believable sound. The team responsible for this difficult task include Craig Henighan (sound designer, sound re-recording mixer, supervising sound editor), Skip Longfellow (first assistant sound editor), Warren Hendriks (sound designer), Rob Nokes (sound effects field recordist), and Dan O'Connell (foley artist).
Grab your boxing gloves and step into the ring!
Real Steel also features a very solid score from Danny Elfman, so it's an impressive blend of sounds. As for the movie itself, it's a lot of fun with a few minor problems. At the start it's tough to jump into this world because the robots lack humanity. Once the father son relationship begins and the hero robot is discovered and bonded with, though, the film hits its stride. It's a little rushed but there are several fantastic moments and it'll certainly be a big hit.
Are you aware of the sound in movies when you watch them? How did you like Real Steel?