New Posters: 'J. Edgar' And 'Shame'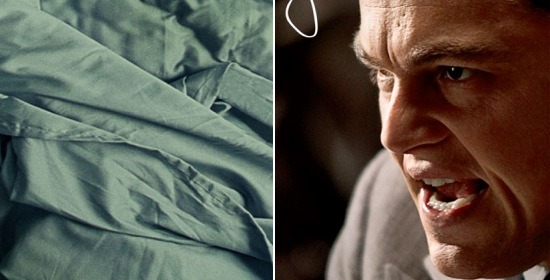 As with every fall, with cooler weather comes more serious films. Two potentially award-worthy projects we've been waiting all year to see are Clint Eastwood's J. Edgar, starring Leonardo DiCaprio as the first director of the FBI, and Steve McQueen's Shame, a sex addict drama that reunites the director with his Hunger star Michael Fassbender. And while neither of them are opening just yet, new posters give us a tiny hint of what's to come. Check them out after the jump.
[via The Hollywood Reporter, First Showing]
First, we've got a pair of posters for J. Edgar — one a photograph of DiCaprio with some rather convincing old-age makeup, the other a heavily stylized version of same. I really dig seeing the two of them together, as the pairing seems to fit with the film's focus on both the public J. Edgar Hoover (the red, white & blue poster) and the private one (the photographic one). Or maybe I'm reading way too much into two pictures and the real explanation is that the marketing team just couldn't decide which one looked cooler.
Written by Dustin Lance Black (Milk), Eastwood's biopic explores the legendary and controversial Hoover from his own perspective, from his young life and the start of his career through the end of his days. Armie Hammer, Judi Dench, and Naomi Watts also star. The film opens November 9, 2011.
Next up, we have the Shame poster, a simple, totally SFW, yet evocative piece of work that just features the word "SHAME" stamped over an unmade bed. It seems to be of a piece with the one released late last year, of a hand pressed against the glass. Considering that so much of the talk around Shame has been about its explicit nature — stars Fassbender and Carey Mulligan both go full-frontal, and a wide variety of sexual acts are depicted throughout the film — it seems like a clever move by the marketing team to pull back and show nothing at all for the poster.
Shame, which revolves around a sex addict (Fassbender) who finds his orderly life disrupted by the arrival of his troubled sister (Mulligan), drops December 2, 2011.