Billy Ray To Rewrite Johnny Depp's 'The Thin Man'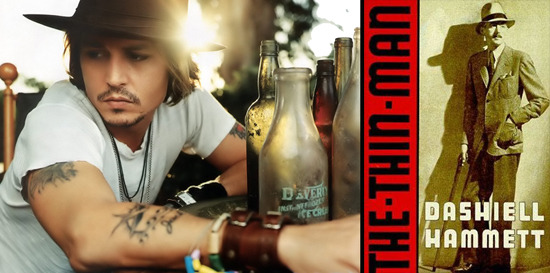 The new version of The Thin Man, which Johnny Depp set in motion at Warner Bros. last year, is still moving forward. The star has wanted to make a new film based on Dashiell Hammett's classic novel (which already spawned a six-film series and a television show) and last year roped in his Pirates 4 director Rob Marhsall to direct. Now Billy Ray (Shattered Glass, Breach) has been hired to draft a new script.
THR says that Warner Bros. considers the film a priority, as it naturally would with any Johnny Depp project. Ray is the latest writer after Jerry Stahl and David Koepp. The latter moved on when he and Marshall had creative differences.
When Koepp was hired to write we heard that
The original intention is to take elements of the first two films and work them into one film, putting it into a period setting and giving it a Sherlock Holmes-like stylized treatment.
There was also the report that Marshall wants a musical number or two — not the most outrageous thing, for a story set in the '30s. It's the 'Sherlock-styled' approach that saddens me; as we saw with the trailer for The Raven, when applied broadly that sort of approach can have pretty ugly results.
Once again, if you're unfamiliar with the story, The Thin Man features former private detective and current professional drunk Nick Charles (Johnny Depp), and his young socialite wife Nora (as yet uncast), visiting New York City. There Nick is asked to help ferret out the truth about the murder of Julia Wolf, supposedly by Ms. Wolf's former boss and lover, who happens to be an old associate of Nick's.