'The Raven' Trailer: If Edgar Allan Poe Were A Sherlock Holmes Character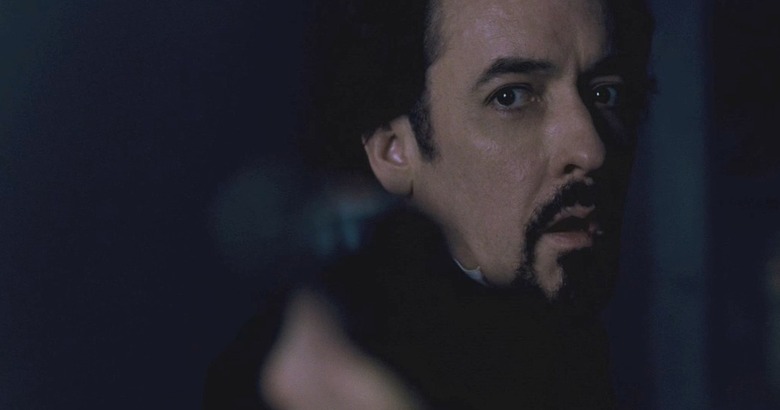 Literary adaptations can have a reputation for being stuffy, but James McTeigue's The Raven looks anything but. The story, which is not based on legendary writer Edgar Allan Poe's poem of the same title, revolves around Poe (John Cusack) as he gets pulled into a serial killer case when a young Baltimore detective (Luke Evans) realizes that the murderer has modeled his crimes after Poe's works. (Like a 19th-century Castle, I guess.) McTeigue is the director behind such visually striking actioners as V for Vendetta and Ninja Assassin, and The Raven looks to be along those same lines. Watch the trailer after the jump.
[via First Showing]
As a former English major, I dig the premise. Poe has written some of the most chilling deaths in American literary history, and this seems like an inventive way to bring them to the big screen. What I'm less sold on is Cusack as Poe. At least in the trailer, Poe comes across less like an eccentric author with a dark and twisted imagination and more like, well, Cusack. You could totally imagine this guy shrugging off his period-appropriate coat and running to Chicago to make top-5 lists, or giving a girl his heart and getting a pen. Seeing as Poe is the central character in this narrative, that could end up being a major weakness.
On the brighter side, the movie overall looks like lighthearted, mindless fun a la Guy Ritchie's Sherlock Holmes (even if the official synopsis would prefer you to think of it as "gritty") and relative newcomer Evans seems charming.
The Raven drops March 9, 2012.
Official synopsis:
In this gritty thriller, Edgar Allan Poe (John Cusack, Being John Malkovich) joins forces with a young Baltimore detective (Luke Evans, Immortals) to hunt down a mad serial killer who's using Poe's own works as the basis in a string of brutal murders. Directed by James McTeigue (V for Vendetta, Ninja Assassin), the film also stars Alice Eve (Sex and the City 2), Brendan Gleeson (In Bruges) and Oliver Jackson-Cohen (Faster).
When a mother and daughter are found brutally murdered in 19th century Baltimore, Detective Emmett Fields (Luke Evans) makes a startling discovery: the crime resembles a fictional murder described in gory detail in the local newspaper—part of a collection of stories penned by struggling writer and social pariah Edgar Allan Poe. But even as Poe is questioned by police, another grisly murder occurs, also inspired by a popular Poe story.
Realizing a serial killer is on the loose using Poe's writings as the backdrop for his bloody rampage, Fields enlists the author's help in stopping the attacks. But when it appears someone close to Poe may become the murderer's next victim, the stakes become even higher and the inventor of the detective story calls on his own powers of deduction to try to solve the case before it's too late.