'Answers To Nothing' Trailer – Presenting Dane Cook, Serious Actor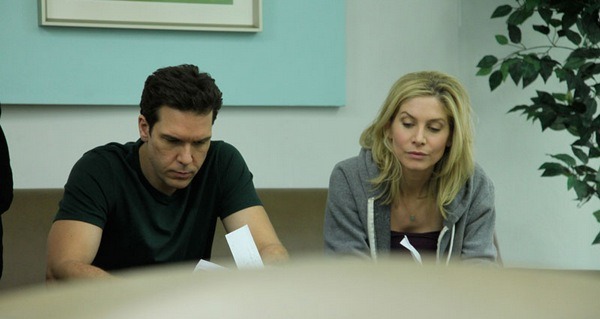 There comes a moment in many a comedy star's life when he decides it's time to try his luck with dramatic acting. Apparently, that point is now for comedian/actor Dane Cook. Though he's made his name with mediocre comedies like Good Luck Chuck and Employee of the Month, Cook took on a more dramatic part in 2007's Dan in Real Life, and now he's doing his darkest turn yet inAnswers to Nothing.
Directed by Matthew Leutwyler, the drama follows a several "lost souls" in L.A. who are connected by a missing girl case. Cook plays one of those lonely people, a cheating husband to Lost's Elizabeth Mitchell and a frustrated son to Barbara Hershey. Julie Benz, Zach Gilford, and Eric Palladino also star. Watch the trailer after the jump.
[via Moviefone]
The plot appears to center around a kidnapping case being investigated by Benz's character, who in turn is buddies with Mitchell's. I'm not entirely sure how Gilford or Palladino factor in. The trailer doesn't look very good to me — it mostly looks a second-rate Crash, and then there's a segment about 1/3 of the way through where the movie briefly turns into a thriller for some reason. What's going on here?
On the plus side, it doesn't seem like Cook is the problem. It's impossible to judge his performance from these brief clips, but from here he looks no better or worse than any of the other actors in the movie — all of whom have much more dramatic acting experience than Cook does. Answers to Nothing may not be the ideal start for this new period in Cook's career, but if he does well here, who knows? He probably won't become the next Tom Hanks, but maybe he could be the next Dax Shepard. That guy used to star in things like Let's Go to Prison, and now critics are always going on about how surprisingly good he is in Parenthood.
Answers to Nothing hits theaters December 2, 2011.