'Tucker & Dale Vs. Evil' Director Reveals Sequel Idea 'Tucker & Dale Go To Yale'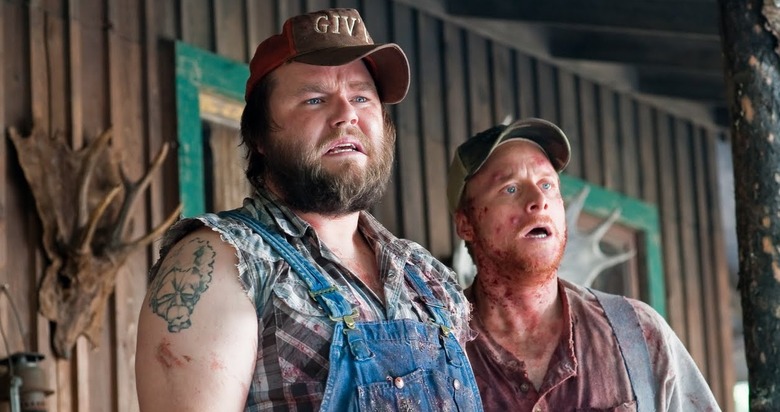 Tucker & Dale vs. Evil has been making the festival rounds since last January's Sundance Film Festival, but it wasn't until last week that the film finally got a rather limited U.S. theatrical release. Starring Alan Tudyk and Tyler Labine, Eli Craig's comedy turns the hillbilly horror subgenre on its head by telling the story from the rednecks' perspective. Tucker (Tudyk) and Dale (Labine) are just two well-meaning pals trying to enjoy a quiet fishing weekend in their admittedly run-down cottage. But when a group of obnoxious college kids arrive in their neck of the woods, one deadly misunderstanding leads to another.
It seems like enough gore and (hilarious) tragedy to last poor Tucker and Dale a lifetime, but Craig has other ideas. After the jump, read Craig's thoughts on a potential sequel for the beleaguered backwoods buddies.
Asked whether Tudyk and Labine would return, Craig responded: "Barring scheduling conflicts, because they have very industrious careers, [Tudyk and Labine] are on board. These guys have been huge supporters of the film, they love the film, they love the characters, and they're the ones who have been encouraging me to do the sequel, so I know that I have Alan and Tyler on board and hopefully I'll have Katrina [Bowden, who co-stars in Tucker & Dale vs. Evil] for some of it as well."
However, all this is contingent on whether the first movie actually performs well. Tucker & Dale vs. Evil has been available on VOD since late August, and Craig says it's doing "pretty well," although "it's hard to tell how well it's done yet." The movie hasn't been a strong performer at the box office, though, earning just $52,843 across 30 theaters in its opening weekend.
I haven't had the chance to see Tucker & Dale myself (yes, I'm part of the problem), but it's been getting very good reviews. Labine and Tudyk are said to have great chemistry, and critics have praised the film's surprising but welcome underlying sweetness. I also happen to love Tudyk and Labine, so if Craig can come up with a solid script from his idea, I'd be more than happy to see Tucker and Dale become the next Harold and Kumar.