Exclusive 'Young Adult' Alternate Trailer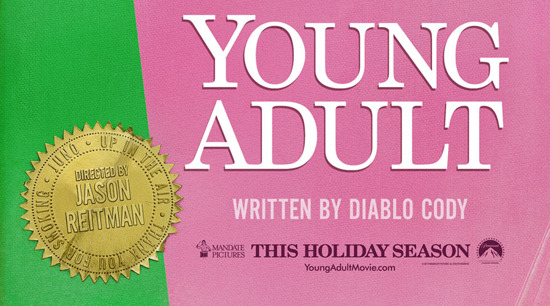 Here's a slightly different trailer for Jason Reitman's new film Young Adult. The film is scripted by Diablo Cody and features Charlize Theron as Mavis, a struggling, damaged author who heads back to her home town to win back her old flame, played by Patrick Wilson. Trouble is, he's a married family man. Not that it really matters to Mavis. She's determined to bulldoze her way back into his life.
As in the other trailer you may have seen earlier today, Theron's character is announced as a giant bitch with the opening chords of David Bowie's 'Queen Bitch' well before someone in the trailer gets around to calling her out on it. From there, we're treated to a collection of moments of Mavis being terrible to others, and to herself. We'd heard the movie was supposed to be very dark, even uncomfortable. So far, that's on point. But moments with Patton Oswalt lighten the mood a bit, if not quite in the way we're used to seeing from him.
This trailer swaps out the clothes shopping gag that hits towards the end of the 'clean' trailer for a slightly more raunchy joke. Check it out below.
What I get from this trailer is the idea of a brittle character study that is focused in a manner similar to Juno — just a lot more dark. Will it be biting and funny, or will the interactions be difficult to watch as Theron's character flails? I can't make that call from here, but I want to see how it works out. And I want a lot more of Patton Oswalt.
Academy Award(R) winner Charlize Theron plays Mavis Gary, a writer of teen literature who returns to her small hometown to relive her glory days and attempt to reclaim her happily married high school sweetheart (Patrick Wilson). When returning home proves more difficult than she thought, Mavis forms an unusual bond with a former classmate (Patton Oswalt) who hasn't quite gotten over high school, either.