Superhero Bits: Man Of Steel, The Dark Knight Rises, Mark Millar, Ghost Rider, Batman: Year One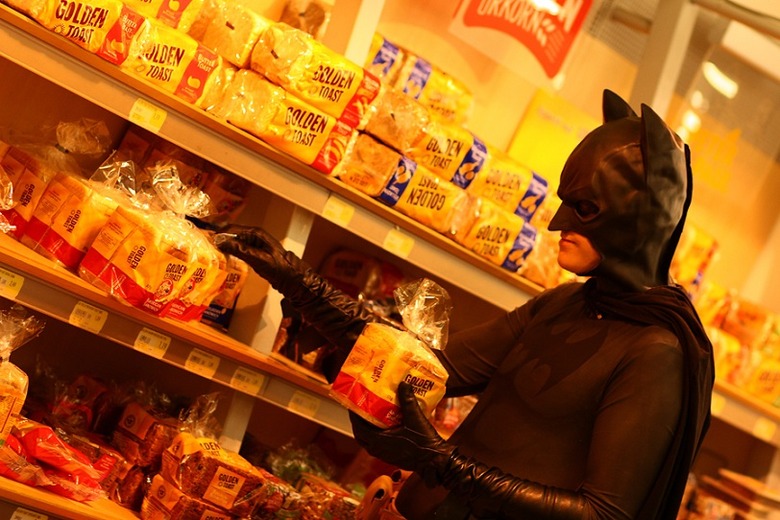 Want to watch a brand new clip from Batman: Year One? What does a man who has had 15 years of plastic surgery to look like Superman look like? Speaking of Superman, what's up with the Man of Steel filming? Is something wrong with Bruce Wayne on the set of The Dark Knight Rises? And how would Mark Millar have rebooted the DC 52? Read about all of this and more in today's Superhero Bits.
Warner Bros. has released another clip of from the upcoming animated film Batman: Year One. Thanks to Comic Book Movie.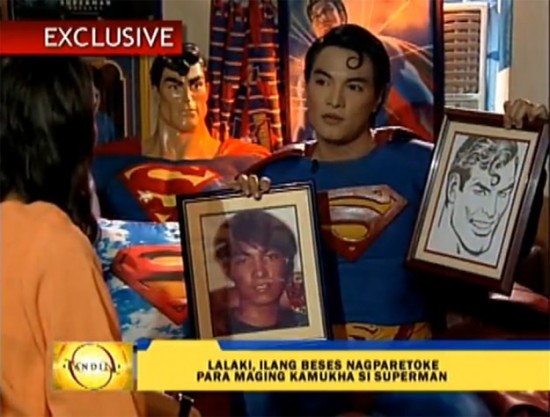 This straight-up gives me the creeps. RealSelf (Via Comic Book Resources) came upon the story of Herbert Chavez, a 35-year-old Filipino who has been getting surgeries since 1995 so that he looks more like Superman. There are more photos at the above links.
io9 spoke to Jonathan Nolan about how Person of Interest uses the technology that Batman was scared to use in The Dark Knight. Much more at the link:
In Dark Knight, surveillance was a question. In this show, probably sadly, it was no longer a question. It was a given.
A group named Awkward Spaceship did this short, sweet and clever video about a night drinking with the X-Men. Thanks to Geeks are Sexy.
Mark Millar took to his official website to hypothesize how he would have rebooted DC comics.
I love playing this game. My friends and I were chatting about it just this morning. DC would need to pony up serious cash (as Marvel's biggest creators [are] generally paid WAY more), but imagine you've got access to the WB vault and you can literally buy anyone. Even Image guys who were making a million an issue in the 90s. You've got access to EVERYBODY. How would your DC 52 differ? Mine, for starters, would be about 25-30 books
But go for it. I'd love Leinil Yu on Batman, McNiven drawing Justice League, Kirschl drawing Teen Titans, Brendan McCarthy on The Flash. Kev O'Neill (does the best aliens) on Green Lantern (with Pat Mills on scripts) and Frank Miller doing anything he wants.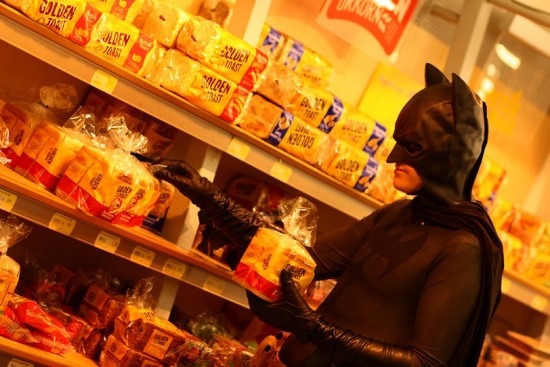 Batman is looking to carb up in one of several new cosplay photos at Gamma Squad.Superhero Hype reports you'll be able to see exclusive footage from Ghost Rider: Spirit of Vengeance on October 15 at the Spike Scream Awards.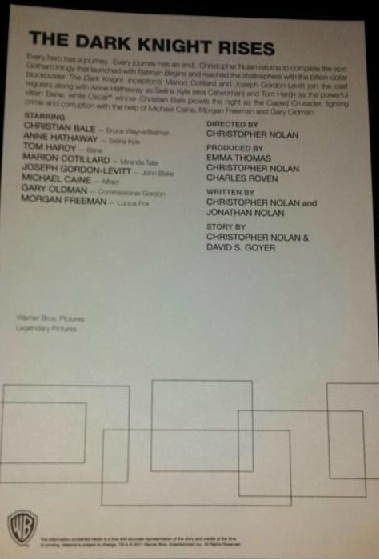 The above flyer was apparently handed out several months ago at the Cannes Film Festival and includes a first, "official" description of The Dark Knight Rises, according to Comic Book Movie. It reveals nothing:
Every hero has a journey. Every journey has an end. Christopher Nolan returns to complete the epic Gotham trilogy that launched with Batman Begins and reached the stratosphere with the billion-dollar blockbuster The Dark Knight. Inception's Marion Cotillard and Joseph Gordon-Levett join the cast regulars along with Anne Hathaway as Selina Kyle and Tom Hardy as the powerful villain Bane, while Oscar winner Christian Bale prowls the night as the Caped Crusader, fighting crime and corruption with the help of Michael Cane, Morgan Freeman and Gary Oldman.
Superhero Hype has posted this cool gameplay footage of Robin in Batman: Arkham City.
THE NEXT PAGE CONTAINS POTENTIAL SPOILERS FOR MAN OF STEEL AND THE DARK KNIGHT RISES.
Due to the amount of graphics and images included in Superhero Bits, we have to split this post over TWO pages. Click the link above to continue to the second page of Superhero Bits.
[No photo]
A few weeks ago, Man of Steel was looking for extras in a fishing village and now, thanks to the Man of Steel Fan Facebook (via CBM) we have a bunch of small photos of the village in question. That's two above, more at that link.
[No photo]
Comic Book Movie also posted a few images of Metropolis vehicles from Man of Steel such as the above police car.
[No photo]
Amy Adams is also on set in Vancoucer, BC (along with a bearded Henry Cavill) filming Man of Steel. Thanks to the Daily Mail (via CBM).
"Mr. Wayne over here.. Where ya been hiding Mr. Wayne?" Bruce Wayne (Christian Bale) arrives to a party in his Lamborghini but has a distinct limp while paparazzi toss out questions like those in this new set footage from The Dark Knight Rises via Comic Book Movie.